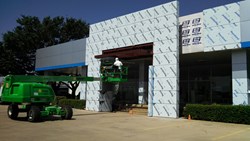 This is an exciting time for everyone. . .our employees, community and particularly our great customers.
Stephenville, Texas (PRWEB) September 05, 2013
Bruner Motors, Inc. is excited to announce that the final touches are being completed on the major renovation and expansion of its GM store in Stephenville. Bruner Motors, Inc., located at 1515 W South Loop in Stephenville, is set to welcome back its temporarily relocated staff and be fully operational toward the end of September. Renovations began with a special Wall Bustin' Ceremony on April 10, 2013 and has included updates to nearly every customer service area of the dealership as well as a 3,000 square foot addition to the parts and repair department.
The Bruner Auto Family has been serving the Stephenville community since 1969 when they opened their first Chevrolet dealership. In the two decades that followed, Bruner added Buick, Cadillac and GMC stores with the last expansion being completed in 1989. The current renovation and expansion is part of a program led by General Motors to update facilities all over the United States. This program calls for upgrades to the sales, service, parts and administrative departments to allow GM dealerships to help a larger number of customers and help them more efficiently. General Manager Greg Bruner was noted as saying when the renovations began in April that, "This is an exciting time for everyone. . .our employees, community and particularly our great customers. The extent of this renovation will greatly enhance our customer experience."
The Bruner Auto Family includes GM, Chrysler and pre-owned dealerships, the Car Wash at Bruner's in Stephenville as well as GM, Toyota and pre-owned dealerships in Brown County, Texas. Their Chrysler store at 750 East Road in Stephenville completed renovations in late 2012 to better serve their customers and the new GM and Toyota stores in Brown County just celebrated their grand opening this summer. For more information about the Bruner Auto Family, please visit their website at http://www.BrunerAuto.com, by phone at 800-880-3325 or by email at kathygoodman(at)brunerauto(dot)com.