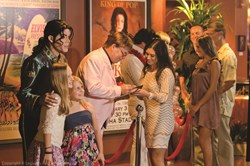 ... the perfect venue for an exciting night out with the family.
Honolulu, Hawaii (PRWEB) September 06, 2013
This Summer, Legends in Concert Waikiki has made Hawaii's most exciting family show its finest family bargain as well! Guests still have until September 30 to take advantage of a "Child Free" special with each paying adult on the Legendary Cocktail Show package.
Both parents and kids will enjoy live performances by a talented cast of tribute artists including Elvis, Michael Jackson, Madonna and Whitney Houston (Britney Spears will replace Houston from September 24). The production also features a live band and Waikiki's largest cast of dancers combining rock-and-roll and modern pop with hula, all in the 750-seat multimedia Royal Hawaiian Theater.
"Legends in Concert celebrated its first anniversary in Waikiki earlier this year and it continues to be the perfect venue for an exciting night out with the family," says Brian Brigner, COO for Legends in Concert. "We're thrilled to see visitors and residents bringing their kids to the show to experience this musical extravaganza together."
The Legendary Cocktail Show includes a pre-show cocktail or soft drink and admission to the "Rock-A-Hula" show. Guests are also invited to meet the performers for photograph and autograph opportunities immediately following the show. The package is priced at $59.00 per adult, with Kama'aina rates available with valid Hawaii I.D.
"Rock-A-Hula" is open year-round six nights a week (dark on Mondays) with gourmet dining options also available. For reservations call (808) 629-SHOW (7469), visit http://www.LegendsWaikiki.com, or go to the Legends Waikiki Kiosk located at the Royal Hawaiian Center on Kalakaua Avenue. For more information see Facebook.com/LegendsWaikiki and Twitter @LegendsWaikiki.