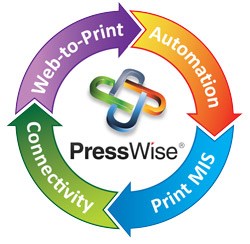 The fact that PressWise is software-as-a service means I always have access to the very latest version.
Agoura, CA (PRWEB) September 06, 2013
SmartSoft, provider of the all-in-one web-to-print, MIS and workflow automation solution PressWise, recently welcomed their newest customer, the Graphic Arts department of the East Baton Rouge Parish School System. With approximately 90 schools in addition to a central office staff, the InPlant currently provides printing services to approximately 6,000 employees and 43,000 students.
"We run a mix of offset and digital equipment, including Heidelberg, Oce and Konica Minolta presses, and most of the items we print are things you would typically think of in a school system, such as tests, workbooks, handouts, brochures, postcards, and stationary. We average about 1.5 million letter impressions per month and about 3,000 square feet of wide format printing," said Chad Simpson, the Graphic Arts Supervisor for the school system, who had been searching for an MIS solution that could streamline and automate their print production process workflow, taking orders from a wide variety of sources and pushing them through a single, unified workflow.
"Sometimes it can feel a bit like the Wild West. Orders come from everywhere - email, walk-ins, fax machines, and the mail. The artwork files might come in from one way, such as email, while the print request form might arrive in the mail three days later. Once we get a request matched to the artwork file it goes on a table and we try to do things in the order the job is required. Once jobs are run, we then key them in for billing and the customer is called for pick-up."
Mr. Simpson knew he had to change the way he ran his print operation, to make the process of ordering and reordering jobs much simpler, eliminate most of the manual touches involved in producing each job - including multiple rekeying of orders - and allow production teams to access up-to-date job information in real-time.
"Sometimes when you have a lot of work going on things get overlooked and you realize you are not working on the things that are needed first. People call about jobs and it can be difficult to give them the answers they need because there is no centralized place to get that information."
PressWise offers a single, cloud-based platform that includes Web Storefronts, Print Estimating, Order Management, Production Automation, Shipping and Fulfillment, and Mail Processing. The all-in-one nature of PressWise, including the ability to create unlimited custom storefronts for each school or department, was a big selling factor for the InPlant.
"We were definitely looking for something that had a web-to-print component that didn't require us to maintain any hardware. We wanted something that kept us organized but didn't take up a lot of time to use and we wanted it all from one vendor so we wouldn't have to go through the finger pointing if things didn't go right out the box."
On this subject, Mr. Simpson does not anticipate too much trouble getting his new PressWise system implemented in his shop:
"I was really impressed with all the technical support and online tools to get me up and running as quickly as possible, including a Learning Center full of videos and an in-depth Knowledge Base, which goes a long way in educating me on what the product is capable of. It is a lot easier to get it off the ground if you can get answers to questions when you need them."
"The other huge selling point is how frequently the system is updated. The fact that PressWise is software-as-a service means I always have access to the very latest version. I have tried other systems and updates are so rare they are practically non-existent. I wanted to partner with a company that would work at making the product better for me through enhancements that come from customer input on an ongoing basis, not once a year or once every couple of years.
"The Graphic Arts department for the school system here in East Baton Rouge is now set up to provide a superior level of service, with a company like SmartSoft that is clearly committed to being much more than a vendor, but a partner in our future success."
SmartSoft will be presenting their PressWise system in Booth 4640 at Print13 in Chicago from September 8th to the 12th, 2013. You can also find out more at http://www.presswise.com.
About PressWise
PressWise is an end-to-end MIS Workflow Automation solution. Developed over 8 years of rigorous in-shop testing and live use, PressWise comes complete with robust features such as web ordering, unlimited templates, estimating, quoting, order processing, workflow management, complete shipping integration, fulfillment and the ability to integrate with most third party web storefronts (including PTI, PixFizz, Prisme, Pressero, PageDNA, PrintPoint, RedTie and more) and existing back-end accounting systems, including QuickBooks.
About the East Baton Rouge Graphic Arts Department
The Graphic Arts Department of the East Baton Rouge Parish School System provides Graphic Arts/Printing and related services in a timely and efficient manner while maximizing cost savings for the school system. It currently serves over 90 schools, providing printing services to around 6,000 employees and 43,000 students.
About SmartSoft
SmartSoft provides desktop and enterprise-level workflow solutions for postal address correction, postal discounts, and print management. Their products include the AccuMail® suite of address hygiene software, the all-in-one mailing software solution, SmartAddresser 5™, the IM barcode mail tracking service MailSpotter, and the end-to-end print workflow solution, PressWise. SmartSoft is a privately held company with offices in Agoura Hills, Santa Barbara, Philadelphia and Montreal. Visit http://www.smartsoftusa.com for more information.