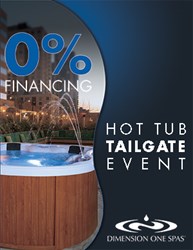 D1 Spas is offering 0% financing for up to 48 months!
Vista, CA (PRWEB) September 05, 2013
Dimension One Spas' annual Tailgate Event is one of the best times of the year to get the hot tub of your dreams. The model year is coming to a close and dealers are looking to clear out showrooms for 2014.
During this event, consumers can be eligible for 0% financing for up to 48 months through D1's Outdoor Solutions partner, Wells Fargo. This financing opportunity makes D1's premium, top-of-the-line Bay Collection about as affordable per month as the base @home line!
There is only one weekend left to take advantage of huge savings. The Tailgate event ends Tuesday, September 10th. Consumers can find their local D1 dealers here: http://www.d1spas.com/find-local-dealer/.
###
About Dimension One Spas
Dimension One Spas (D1), founded in 1977, is the industry leader in designing and manufacturing luxury home hot tub hydrotherapy and aquatic fitness products. D1 has combined its innovations in materials, science and water technology to bring customers the most advanced spas in the world. D1 has created a benchmark for quality and innovation, offering four distinct high performance collections. Please visit http://www.d1spas.com for more information.