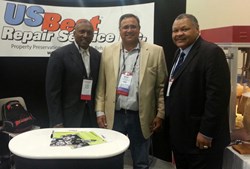 We have a responsibility to help those that need it and protect our neighborhoods.
DALLAS, TX (PRWEB) September 06, 2013
Tim Brown, the former Woodrow Wilson High School (Dallas) football star, Heisman Trophy winner (Notre Dame, 1987), and future NFL Hall of Fame inductee, is adding to his community outreach initiatives. Currently the International Chairman of 9-1-1 for Kids, a charity that focuses on educating children on proper 9-1-1 usage to benefit community safety, Brown is adding to his community service resume by raising awareness for foreclosure prevention and mortgage refinance solutions at Five Star Conference.
Brown has teamed up with U.S. Best Repair Service, a national leader in mortgage field services, as the two entities tackle the socially relevant issue of abandoned bank-owned homes. U.S. Best Repair Service focuses on removing community blight, like painting over graffiti, boarding broken windows and generally making neighborhoods safer. They do this by securing abandoned homes from vandals who often steal piping, break windows, use drugs, and conduct gang activity, which can transform neighborhoods into dangerous areas, not to mention decreasing the value of other homes.
The Dallas-Fort Worth area is recovering from the housing crisis and economic recession better than most of the nation, but "community blight and neighborhood safety remains a concern" says Brown. "We have a responsibility to help those that need it and protect our neighborhoods."
Tim Brown will be available during the Five Star Conference at the Hilton Anatole in Dallas on Monday, September 9th, from 12pm to 2pm at booth #114. Media coverage is welcome, however access is restricted so advanced credentialing is necessary. Please contact Mike Gleason for inquiries:
Mike Gleason
mgleason(at)usbestrepairs(dot)com
714-599-7831 office
949-236-7421 mobile
###