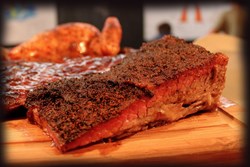 Honolulu, Hawaii (PRWEB) September 05, 2013
The on-site restaurant serves up mouthwatering smoked meats and delicious country sides.
Outrigger Napili Shores, a beloved Maui condominium property, recently unveiled its smokin' hot new restaurant, Iron Imu BBQ. Located on the south side of picture-perfect Napili Bay, the restaurant offers southern-style barbeque and specializes in smoked meats and good 'ole country sides, all served with southern hospitality with a tropical twist at the 80 to 100-seat self-service, family-friendly establishment.
"Outrigger Napili Shores is elated to welcome Iron Imu BBQ to our condominium resort," said Bob Graybosch, general manager of Outrigger Napili Shores. "We're pleased that our guests will now enjoy authentic barbeque in a family-friendly setting, and we're confident that Iron Imu BBQ will soon be a local favorite for Maui residents."
Established in 2009 as a mobile catering service, the popular eatery has officially opened its doors at Outrigger Napili Shores, serving up savory plates of slow-smoked brisket, chorizo-stuffed smoked chicken, pulled pork, dry-rub ribs, butter-boiled shrimp and fresh blackened fish. The menu also features a variety of scrumptious sides, including Grandpa Ford's "mac & chz," Mimi's "sweet pepper slaw," Unkle Kunkle's "BBQ bacon green beans," and corn casserole.
From birthday parties to wedding receptions, Iron Imu BBQ provides the perfect setting for special events of any kind. Iron Imu's cozy venue, professional staff and delicious menu will be a recipe for success whether for a fundraiser or a family reunion.
The restaurant, conveniently located in the lobby of Outrigger Napili Shores, provides a relaxing atmosphere for dining and is open for dinner seven nights a week from 5 to 9 p.m. For those who prefer to take their food on-the-go, guest can call or stop by Iron Imu BBQ for a quick and easy meal and retreat back to their condo for some rest and relaxation.
Starting at just $155 per night, Outrigger Napili Shores is renowned for its breathtaking views, spectacular oceanfront setting and gracious island hospitality. Each studio and one-bedroom unit offers comfort and style each with a spacious kitchen with a microwave, refrigerator, dishwasher and stove – perfect for vacationing families and friends.
For reservations or information, call your preferred travel professional or Outrigger Napili Shores toll-free at 1-800-OUTRIGGER (688-7444) within the U.S., Guam and Canada.
About Outrigger Enterprises Group
Outrigger Enterprises Group is one of the largest and fastest growing privately-held leisure lodging, retail and hospitality companies in the Asia Pacific and Oceania regions and continues to expand its presence throughout the area. A family-owned company with 66 years of hospitality experience, Outrigger runs a highly-successful, multi-branded portfolio of hotels, condominiums and vacation resort properties, including Outrigger® Hotels & Resorts, OHANA® Hotels & Resorts, Embassy Suites®, Holiday Inn® Best Western®, Wyndham Vacation Ownership® and Hilton Grand Vacations. Currently, Outrigger operates and/or has under development 45 properties with approximately 11,000 rooms located in Hawaii; Australia; Guam; Fiji; Bali; Thailand; Mauritius; Vietnam; and Hainan Island, China. Outrigger Enterprises Group also operates and develops hotel properties and hospitality-related retail and real estate opportunities for partners in Hawaii, the Pacific, and Asia. For on-line information, log on at http://www.outriggerenterprisesgroup.com and http://www.outrigger.com.
CONTACTS:
Nancy Daniels, APR, Director of PR
Outrigger Enterprises Group
Ph: 808-921-6839
Email: nancy(dot)daniels(at)outrigger(dot)com
Monica Salter
Bennet Group Strategic Communications
Ph: 808-265-0073
Email: monica(at)bennetgroup(dot)com