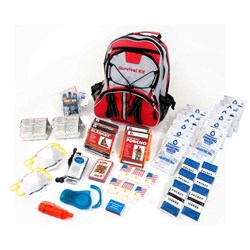 We want to help you achieve peace of mind, knowing that you are ready whatever may come
Albany, OR (PRWEB) September 10, 2013
September is National Preparedness Month, the month where the American public are reminded to be prepared for anything. The focus is placed on home and family preparedness, businesses being ready for anything, and school-aged children being prepared.
During September every year, the Center for Disease Control (CDC) and the Federal Emergency Management Agency (FEMA) encourages the citizens of the United States to prepare their homes, schools, and companies for emergencies - situations ranging from natural disasters to terrorist attacks to nuclear disaster.
Since the events of 9/11 over a decade ago, September has been the month in which the U.S. Government has made an effort to remind the general populace of the importance of being prepared. A 2009 survey showed that less than 60% of Americans had supplies stockpiled at home, so the Government is placing extra emphasis on emergency preparedness this year.
The most important thing to stockpile is survival food. Homeowners are recommended to store enough to feed their family for 2 weeks. Emergencies could cause damage to water pipes, so it's recommended that homeowners also store drinking water.
Preparing an emergency kit is the smart thing to do, as it will prepare the American public for any situation. This kit should include blankets, sleeping bags, a tent, a lantern, a flashlight, a first aid kit, a signal flare, and water purification tablets - among many other things.
The Guardian Survival Kits offered by Wilderness Survival Gear provides all of the necessities that will help the general public survive in case of an emergency. Their website also offers a host of informational articles, videos on how to survive in dire situations, and a host of resources that will help the American public to be prepared for anything. The complete survival kits start at $99.
Sales director Ken Meeks issued a statement to the American public, "We want to help you achieve peace of mind, knowing that you are ready whatever may come. You can learn the skills you need to survive in the wilderness or in an emergency situation by checking out the articles and instructional videos on our website."
About the Company:
Wilderness Survival Gear is committed to providing their customers with the knowledge and tools they need to survive emergency and disaster situations. They offer articles and information on emergency preparedness, as well as products that will help prepare for any disaster or emergency.
For more information on the Survival Kits offered by Wilderness Survival Gear, visit their website at http://www.wilderness-survival-gear.com.