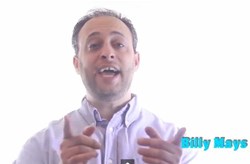 (PRWEB) September 06, 2013
"Want to play killer leads and scorching solos?" he begins. He explains that, with the course, guitarists will get their hands on all kinds of amazing guitar performance insider information.
No ordinary guitar learning product, the new Claude Johnson DVD will inspire players, supercharge their skills, take years off the learning curve and make them fluid on the fretboard. Taking the student's mastery to new heights are exercises in pentatonics, pivoting, position shifting, tapping, rhythmic playing and melodic textures on three HD DVDs, with all music tabbed out note for note. "Supercharged Soloing Made Simple" includes Claude Johnson lessons on blues guitar technique and rock guitar soloing, with riffs, tricks and licks in all related styles.
In true TV commercial form, Mays says, "But wait, there's more!" During the product launch period, shipping to anywhere in the world is free. The earliest orders also have a chance to win free Spear guitars and Meteoro amplifiers. Act now by going to http://www.guitarcontrol.com/supercharged.
GuitarControl.com, a leader in online music education, is the brainchild of ace Philadelphia guitarist Claude Johnson. Since 2004, the site has offered lessons taught by virtuosos in styles ranging from rock, metal and blues to jazz, bluegrass and country to classical, flamenco and fingerstyle acoustic. Its many DVD courses, include Supercharged Soloing Made Simple, Larry Coryell Jazz, Wicked Chicken Pickin' Chops, How to Play Smokin' Blues Guitar, and Gospel Guitar, as well as courses for singers, drums, bass and keyboard, and music software, song collections and jam tracks.