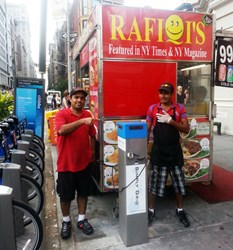 New York, NY (PRWEB) September 06, 2013
Simply Grid announced today that it has launched a food cart electrification pilot in New York City's Union Square. This is the first example of a mobile food vendor on New York City's public streets using grid electricity rather than a noisy, polluting generator. Citywide, more than 3,000 mobile food carts create the equivalent pollution emissions of approximately 10,000 cars. This pilot, launched in conjunction with the New York City Mayor's Office of Long-Term Planning and Sustainability, Con Edison, the NYC Department of Transportation, and Closed Loop Advisors, will last for up to a year and abate up to 9 metric tons of CO2.
Nationally, the mobile food industry counts over 25,000 food carts and food trucks, and the market is projected to see double digit growth over the next several years. While this has been a boon for foodies everywhere, mobile food vendors traditionally rely on noisy, expensive, and polluting generators to power their operations.
Simply Grid's technology allows lot owners and municipalities to provide grid electricity to mobile food vendors which makes them cleaner, quieter, and more profitable. Electricity is made available to these vendors via outlets in industry standard electricity pedestals which have been customized with proprietary metering controllers. The controllers connect wirelessly to Simply Grid's cloud-based platform which manages customer accounts, metering, and billing. The system allows vendors to initiate service with their mobile phones and connect to the electric grid with cables they already use with their generators. Grid electricity is a significantly cheaper energy source for food vendors, and it also eliminates the pollution and noise associated with running a generator.
"Food carts' portable generators emit twenty times more asthma causing pollution per unit of energy than the city's electricity supply," said Sergej Mahnovski, Director of the Mayor's Office of Long-Term Planning and Sustainability. "According to a City survey, nearly 60% of food carts use generators. This demonstration project will help determine if providing electricity to food carts can contribute to the PlaNYC goal of making New York's air the cleanest of any major city in the United States."
"Con Edison supports this pilot program and hopes the technology will free food cart vendors across our city from having to rely on noisy, polluting generators," said Robert D. Schimmenti, Vice President of Engineering and Planning for the utility. "If vendors use our grid, they will have a reliable source of power and New Yorkers will have cleaner air and quieter streets."
"We're thrilled to have this pilot up and running in New York City," said Mike Dubrovsky, CEO of Simply Grid. "Our goal is to show that this technology can eliminate the generator noise and pollution associated with food carts while saving vendors money in the process."
"While we're already up and running in other locations such as Austin, TX and Atlanta, GA, it's quite exciting to be bringing this solution to our hometown," said Jeffrey Hoffman, COO of Simply Grid. "It's gratifying to be helping our community enjoy the food vendors they love while making the experience more environmentally friendly."
"We are pleased that this pilot is going forward," said Sami Abbay, Co-Founder and Co-CEO of Closed Loop Advisors. "Our analysis for the Mayor's Office showed that switching to grid power reduces food cart CO2 emissions by 80% and virtually eliminates the NOx pollution which gasoline powered generators would otherwise produce."
Simply Grid provides a solution for on demand access to electricity. Its proprietary technology enables access to on-site, self-service electricity via industry standard charging stations and in-wall outlets for customers who initiate service with their mobile phones. For more information about Simply Grid, please see: http://simplygrid.com.