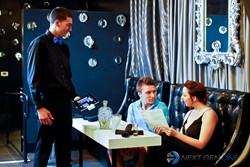 (PRWEB) September 06, 2013
Next Gen Dine by Prelag Partners LLC is the latest restaurant point of sale to hit the POS market that is revolutionizing the way restaurants do business. Next Gen Dine is far more than the usual point of sale. It does all the same functions of a traditional point of sale and so much more.
Next Gen Dine's hostess module lets hostesses make reservations directly on the tablet point of sale. Customers will receive a confirmation text as soon as the reservation is completed as well as a paging text when the table is ready. This module helps the restaurant stay organized by keeping track of all reservations in one place. It also tracks what tables are in use, dirty, and available.
The mobility offered by Next Gen Dine allows servers to place orders anywhere within the establishment and out on the patio. Table-side orders are immediately processed to the corresponding kitchen display unit to be prepped. This process reduces the order turnaround time and maximizes efficiency.
Once the customer is ready to pay, the server can take a debit/credit card payment directly at the customer's table. Customers will feel at ease knowing that their card never left their sight.
In addition to the POS functions, Next Gen Dine offers several other features that help manage a restaurant. On Next Gen Dine, one can view sales reports, payroll, employee schedules, change the menu, and so much more. Other features offered are loyalty programs, gift cards, coupons, social media marketing and other marketing tools. The best part of Next Gen Dine is its affordability. Next Gen Dine is a fraction of the cost a traditional point of sale would cost.
Next Gen Dine maximizes restaurant efficiency is the future of restaurant dining. For more information about the product or to find out how your restaurant can take part of Next Gen Dine, contact Paul Roberts, Managing Partner at 1-877-342-2218 or paul(at)nextgendine(dot)com. Follow us on Twitter, Facebook and LinkedIn.
About Next Gen Dine
Next Gen Dine is a product of Prelag Partners LLC.
Next Gen Dine is a cloud-based, mobile restaurant point of sale software designed for the iPad. Restaurant owners can now capitalize on the benefits of a full-featured POS system for a fraction of the cost of a traditional POS. Due to the mobility offered by the software, employees can take orders directly at the table, take credit card payments at the customer's side, and drastically improve restaurant operating efficiency. Orders placed are sent directly to the appropriate prep station, therefore decreasing order turnaround time. Next Gen Dine also offers restaurant owners customer loyalty, gift card, social media, and fine-grained marketing tools.
To learn more about Next Gen Dine and services offered, please visit the company's website at http://www.nextgendine.com.