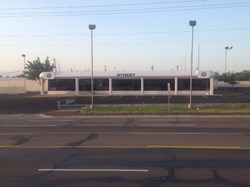 We will bring the same culture that is present at Street Toyota to bring the best experience for our customers.
Amarillo, TX (PRWEB) September 09, 2013
Street Volkswagen of Amarillo will be celebrating the grand opening of their new Volkswagen store on September 15, 2013. The Street Volkswagen Grand Opening Daze will be held from 12 p.m. to 4 p.m. on September 15, 2013 at 2725 SW 45th Avenue in Amarillo, Texas. The theme of the event is "Calling All Slug Bugs" and will feature a "Slug Bug" car show, food and music as well as door prizes and awards for participating Volkswagen owners. Admission is free and for those interested in displaying their Volkswagen in the Slug Bug car show, please RSVP sales(at)streetvw(dot)com. Car show participants are asked to arrive between 10 a.m. and 11 a.m. on September 15.
Earlier this year, Volkswagen of America contacted a number of dealerships in the Amarillo area inviting them to submit applications to join the Volkswagen family as an authorized dealership. Joe Street, owner of Street Toyota, submitted the application and in July received notification from Volkswagen that he had been chosen to become the owner of an authorized Volkswagen dealership. Volkswagen of America's decision was based on the standards of excellence that Joe Street and Street Toyota have maintained in areas such as customer service, sales, customer retention and overall customer satisfaction. Street Toyota holds the distinction of being named the first Signature Toyota dealership in West Texas. Dave Walker, Scion Manager of Street Toyota explained that, "We will bring the same culture that is present at Street Toyota to bring the best experience for our customers."
Street Toyota has been serving Amarillo, Texas and the surrounding communities of Lubbock, Canyon, Plainview, Dumas, Pampa, Dalhart, Hereford, West Texas and the entire Texas Panhandle as well as Clovis and Tucumcari, New Mexico since 1982. The addition of Street Volkswagen of Amarillo will allow Volkswagen customers to enjoy the same excellence in products and customer service offered by Street Toyota to its Toyota and Scion customers. Street Volkswagen will offer the complete line of new Volkswagen vehicles including the fuel-efficient and sporty 2013 GTI turbo as well as certified used Volkswagens. For more information about Street Volkswagen of Amarillo, please contact them at 806-350-8999 or visit their website.