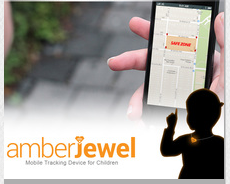 Amber Alert prevention may prove to be the key to stopping these heinous crimes and saving kids from terrifying experiences. Kids should be able to be kids. And parents should have peace of mind, knowing that their child is safe.
Mesa, Arizona (PRWEB) September 07, 2013
A new Amber Alert prevention device and corresponding smartphone app for monitoring have been released as an Indiegogo project in an effort to launch a new age of child safety products. Amber Jewel, a discreet GPS enabled tracking device, will allow parents to locate a missing child within minutes with a text message alert once the mechanism is activated. Exact coordinates are updated in real time, giving parents and police a way to track a child in the event of a kidnapping.
According to Parent's Magazine, a child goes missing or is abducted in the United States every 40 seconds. While some of these incidences have happy endings, there are too many well-publicized cases that have destroyed families, posing long term consequences in the wake of the abduction. J. Joshua Beistle, loving father and the creator of Amber Jewel, is one of the many concerned parents that look upon child predators, such as Ariel Castro, with a mixture of contempt and fear.
"All it took was one phone call from my 8-year-old daughter, telling me that she was walking to school alone," recalls Beistle. "Even though I found her quickly and returned her to safety, I have never been the same since. Amber Alert news bulletins are chilling. The pictures of missing children in stores—haunting. So I decided to invent a child safety device that can be monitored with a smartphone for live updates in real time. I'm developing this product to help children get back home safely."
While it is reportedly in the later stages of development, Amber Jewel's production schedule ground to a halt due to an issue with funding. In an effort to continue with his targeted production goals, J. Joshua Beistle recently initiated a campaign within the Indiegogo community, reaching out to parents and community leaders to help bring this Amber Alert prevention device to the market.
"Our project goals are simple," explained Beistle. "Since my company had developed similar technologies, we re-purposed the coding from another project. This advanced our timeline and minimized our development overhead substantially; however, our funding for this venture was not enough to cover the engineering and production for the Amber Jewel project."
The National Center for Missing and Exploited Children reported an average of 548 calls per day during 2012 alone. Over the course of its service, the organization has responded to more than 3,716,000 calls from horrified, helpless parents who have discovered their child is missing.
"Our device is meant to dramatically reduce the number of kidnappings and tragic endings," said J. Joshua Beistle. "Amber Alert prevention may prove to be the key to stopping these heinous crimes and saving kids from terrifying experiences. Kids should be able to be kids. And parents should have peace of mind, knowing that their child is safe."