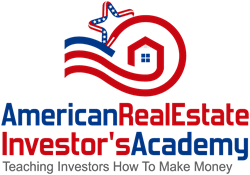 "
Las Angeles, CA (PRWEB) September 10, 2013
The American Real Estate Investors Academy is a web based learning platform for real estate investors. The group will take the place of the local Real Estate Investors Association or REIA for many people across the country.
The problem with real estate education is that there are very few good options available to perspective real estate investors. For the lucky few investors who happen to live in a large city that just happens to have a fully functioning real estate investors association or some other similarly named group, there is an availability of information from established investors. These lucky few are very much in the minority. In most towns across America there is no established to group to learn from. Even worse, in many places the established groups are guided by people who have no real success. Success in real estate is the only true foundation for a real estate educator.
There are a lot of education resources on the internet. The problem with trolling the internet for education is that there is no way to verify the legitimacy of the presenter. There is a lot of snake oil salesman pushing low quality education products to the public. Some of these charlatans have never bought or sold a piece of real estate in their lives. In a more regulated world, people like this wouldn't be allowed to hock their wares.
The Ameh
ttp://american-reia.com/ [rican Real Estate Investors Academy is __title__ reia]a hybrid of the local club and internet availability. The club is made up of seasoned successful educators who have been screened and hand selected for course quality and content. The goal is to bring quality investing education to the masses.
At this time, national sponsors are being sought out. To be considered as a sponsorship applicant, the company must meet several criteria. First off, the product or service must be real estate related in some way. Secondly the product must be available to investors all across America. Third the product or service must be of a high quality. Companies with questionable reputations will not be permitted to advertise as a sponsor of the American Real Estate Investors Academy. The group intends to enforce its quality standard across the board.
Approved sponsors will be allowed to display banner advertisements on the company web site. A typical 125 X125 banner ad will cost only $150 per month from pre-launch sponsors. After the official launch in January, that price will become $250 per month. Additionally sponsors will have the ability to market to the group through the group's newsletter and blog postings.
Joint Venture and Affiliate partners should submit product details to the same email address.
Interested applicants should contact the group via email josh(at)american-reia(dot)com