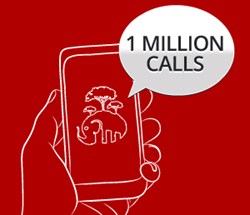 San Diego, CA (PRWEB) September 05, 2013
Underground Elephant, a performance-marketing technology company, achieved a major industry milestone by internally generating one million mobile click-to-calls a month.
Underground Elephant based in San Diego, CA, has been delivering innovative, SaaS marketing performance platforms, and products such as enhanced clicks, and mobile click-to-calls since 2008. Underground Elephant services large-ticket marketing services organizations in the insurance, secondary education, and home services industries.
Underground Elephant continues to play a critical role in helping companies carve out a competitive advantage in the mobile space with its click-to-call products. "Mobile click-to-call solutions offer the easiest implementation, and the greatest customer acquisition yield in the business. Our partners are on-boarded with campaigns live within two days of sign-up," says Taryn Lomas, Chief Revenue Officer at Underground Elephant.
The rise in mobile use for customer acquisition is a direct correlation to the massive adoption of smart phone usage during the past few years and more and more consumers are using their mobile devices to search and initiate the engagement process. With a click of a button, they are connected to a qualified specialist and avoid filling-out online forms. Underground Elephant's mobile click-to-call technology allows for the fastest consumer touch point and presents great value to advertisers.
Advertisers have also evolved their understanding on how to effectively market to mobile consumers. More and more advertisers are either including a phone number in their messaging or having their entire ad be the mobile click to call. Google Mobile Playbook states, "70% of all local mobile searches result in a phone call."
"Underground Elephant first entered the mobile market as a super-affiliate to a major reseller, but were quickly approached by direct customers who wanted greater control, more campaign options, fair-market pricing, and delivery consistency. Because Underground Elephant is the direct source of traffic, and doesn't use third-party affiliates, we offered a unique value proposition to the market, and word quickly spread that customers could drink directly from the source, rather than pay inflated retail prices. A word of mouth viral marketing campaign, and rapid client onboarding supported Underground Elephant's vision of disintermediation," said Jason Kulpa, CEO of Underground Elephant.
About Underground Elephant:
Founded in 2008, Underground Elephant delivers innovative, SaaS marketing performance platforms, qualified form inquiries, enhanced clicks, and mobile click-to-call. Underground Elephant's cloud-based platforms also reduce customer acquisition costs through hyper-targeted prospect sourcing, profiling, distribution and rigorous data analytics. To learn more about Underground Elephant or to request a demo, please call 1­800-466-4178 or visit http://www.undergroundelephant.com.