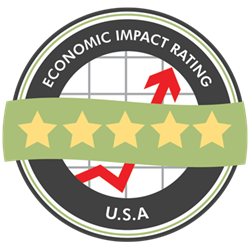 Boston, MA (PRWEB) September 27, 2013
The Economic Information Exchange Company announces survey findings showing sentiment for American Made Products. Almost 40% of the 1,000 people surveyed identified purchasing "Made in America" products as "Very Important". What's even more surprising? Less than 15% claimed to care "not at all". Leaving more than 85% of respondents showing at least some level of interest in supporting Made in America products.
Consumers care-- but why? A recent Fox News Report on a study by Consumer Reports National Research Center, looking at why people buy American, found more than 80% of those surveyed cited, "retaining manufacturing jobs and keeping American manufacturing strong in the global economy," as very important reasons for buying American. It seems consumers are interested in the economic impact of their purchases on America's economy.
This begs the question, how big is the impact from "Made in America"? Are all impacts created equal? Apparently not.
Anthony Comito, American Made expert and founder of the Economic Information Exchange Company, claims, "A product like, for instance, Google's Moto X phone, creates one or two factories for assembling. This employs American workers and management. In the Moto X's case, about 2,000 jobs are created-- and that's great-- however with the Moto X phone's inputs all being foreign made, a large portion of the purchase price goes to jobs and economic growth in foreign countries. If the inputs had been sourced from the United States it would have created numerous American factories, jobs and economic growth all along the phone's supply chain. Having these other factories in turn creates demand for businesses to service the factories and their employees. The factories need cleaning and maintenance services; employees need restaurants to dine at, stores to buy from, cars to drive, so on and so forth. Differences in where products inputs are sourced can have profound economic effects that consumers should be aware of."
With pants made in Vietnam labeled as "authentic, active, outdoor, American"; a T-shirt with the words "Made in the" above the U.S. flag coming from Mexico; and the Moto X with its "designed and assembled in America" marketing campaign--- How does a consumer navigate such murky waters?
The Economic Information Exchange Company is looking to help. They've created the "American Economic Impact Rating", a patent-pending method for communicating a product's economic impact to the United States. In other words, just how American Made is it? The rating considers several factors including where the labor came from; Origin of the materials and inputs, overhead, charitable contributions, tax contributions and more. Using this data, a rating is determined on a 5-star scale. The more stars, the larger the portion of the purchase price being captured by the American economy and poised to support economic growth.
Mr. Comito, CEO of the Economic Information Exchange Company, an accountant and creator of the American Economic Impact Rating, thinks "Consumers, using their wallets, have the power to shape the economy—and the future of America. They just need detailed and accurate information to use in their purchase decisions." In that regard, the American Economic Impact Rating claims to be "Consumer Reports for Made in America".
When asked about what people can do to help, Mr. Comito says, "Lots of things. Like us on Facebook; follow us on Twitter; email us; tell us what you want to see ratings for-- anything to show companies that their customers care". They're currently asking Facebook and Twitter fans which products, services or companies they want to see ratings for. He says, "If something comes to mind, get on there and tell us". "We hope to cover all kinds of American made products some day; American made knives, American made Boots, American made furniture, American made jeans, American made toys, American made cars".
The company is also rolling out statewide ratings showing the impact to more local economies. They've launched statewide rating in New Hampshire, the New Hampshire Economic Impact Rating, and are looking to roll out more states shortly.
--------------
Sources:
Bloomberg.com; September, 3, 2013; http://www.bloomberg.com/news/2013-08-30/google-s-all-american-moto-x-phone-contains-few-u-s-made-parts.html
Fox Business; January, 2013; http://video.foxbusiness.com/v/2130137377001/how-accurate-are-made-in-america-labels/
Parade; August 2013, http://www.parade.com/150071/joekita/the-return-of-made-in-the-usa/
The Verge, July 2013; http://www.theverge.com/2013/7/24/4549624/made-in-america-2-behind-new-tech-patriotism