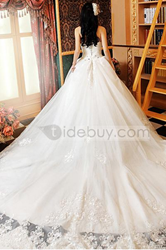 HK,China (PRWEB) September 08, 2013
Tidebuy, the most popular Chinese clothing online store, welcomes its third birthday in this beautiful season when the days are cool and the sky is clear. In order to share its birthday with their loyal regular customers and new customers, Tidebuy offers extremely low prices on high quality and beautiful wedding dresses and special occasion dresses. Anyone who visits this store will get a chance to enjoy up to 90% discount on their bridal dresses and other special occasion gowns.
Tidebuy, a well-known Chinese women clothing store online, manages its business in almost 230 countries, such as USA, UK, Canada and more others. Its products are welcomed by lots of people of these countries. Every day, the store will receive a great number of orders. Usually, these orders will be solved in only two or three days. What's more, sometimes their customers will even send the store their happy wedding photos to share their happiness and express their gratitude.
"It's really exciting to share the third birthday of our company and its rapid growth with all our customers. Tidebuy has grown up to be a mature e-commerce company, which not only has its own garment factory with design and quality control department, but also has its full-day online customer service center." The CEO of Tidebuy, Mr. Yang, said on the company's birthday party, "This great success should be attributed to our research and development department, our diligent employees and of course our customers. During this anniversary carnival period, we will hold many different kinds of promotional activities, which means that anyone who visit our store and buy things here will get great discounts or free shipping service. I hope that all customers and our employees can enjoy this happy time."
In addition to wedding dresses and special occasion dresses, Tidebuy also offers women clothing products, like shirts, sweaters, cardigans, jackets and many other items. The spokesman of the company said that this anniversary carnival will last a month, therefore, get ready for this anniversary and go shopping online as you wish.
About Tidebuy
Tidebuy is an e-commerce company which mainly sells women clothing, such as women dresses, women shirts, women pants and so on. Its wedding dresses are the best selling items of the whole store for their beautiful designs, fine materials and superb craftsmanship. Under the competitive environment of apparel business, Tidebuy goes through ups and downs, and eventually becomes stronger and bigger. Now, it has business in many countries and complete operating systems. Its CEO, the managers as well as the employees are striding forward to a better future.