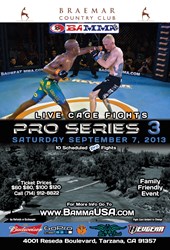 Santa Ana, CA (PRWEB) September 06, 2013
Main Event: Jared Papazian vs Jeff Martin
Jared 'The Jackhammer' Papazian (16-10), a three-time UFC fighter and former King of the Cage champion, will be making his 3rd appearance under the BAMMA USA banner. At Badbeat 8 this past March, 'The Jackhammer' Papazian recorded a unanimous decision victory over Terrion Ware, who at the time held a 3-1 record. Most recently, Papazian earned a unanimous decision victory against John Robles in the World Series of Fighting promotion. With a win over Jeff Martin, Papazian hopes to put a string of victories together and get back to the big show.
After a yearlong layoff from MMA competition, Jeff 'Fifth Period' Martin (10-9) faced undefeated prospect Victor Henry (6-0) at Badbeat 10 on August 9th. Henry showcased some tremendous grappling skills transitioning from a triangle choke to an armbar position and vice versa. Ultimately Henry pulled off the armbar submission victory in the first round of their bout. Though many fighters would take time off regardless of a win or loss, no one has any doubt that Jeff Martin is a gamer. When offered this fight against Papazian, it took only a few hours to contact for Martin to accept the fight. When asked why he would take a fight against a high-profile fighter like Papazian just days after his fight with Victor Henry, Martin replied, "I just want to fight". Looking at his record, people can describe Jeff Martin as one thing, a finisher. In nine of his ten victories, 'The Fifth Period' Martin has recorded seven submission and two TKO victories.
Co-Main Event: Ozzie Avalos vs. Nick Reale
Ozzie 'El Gallito' Avalos (4-2), fighting out of All In MMA and Gracie Barra Santa Ana, will make his second appearance in the BAMMA USA cage. After nearly a two-year layoff, Avalos got back in the win column with a submission (armbar) victory over George Marmon earlier this year. In all four of his victories, Avalos has won by submission.
Nick 'The Italian Stallion' Reale (7-6), fighting out of Lightning and Joker's MMA, makes his promotion debut at Pro Series 3. Reale also returns to the cage after a two-year layoff. With 4 of his 7 victories coming by way of submission, knockout, or TKO, his counterpart Avalos can expect a fighter hungry to compete and looking to finish the fight.
Catch weight Featured Bout: Robert Gleckman vs. Alex Rickards
Featured on the Pro Series 3 main card is a catch weight bout between Alex Rickards (4-8) and 2012 World No Gi Champion Robert Gleckman (1-0). Rickards, a King of the Cage veteran, returns to the cage after nearly a two-year layoff. In his last fight, he suffered a TKO loss to Gabe Rivas. Rickards began his career in 2000, so he will have a large advantage in cage experience over Gleckman, who has only had one professional MMA bout under his belt.
With over 20 years of investment banking experience, Robert 'Strictly Business' Gleckman (1-0) knows it takes patience, planning, and at times risk to be successful. Now he will take those traits and once again implement them in the BAMMA USA cage on September 7th. Gleckman, a jiu-jitsu practitioner under Alberto Crane at Gracie Barra Burbank, had a successful professional MMA debut last May when he defeated Josh Ramage via rear-naked choke. Known for his strong grappling background, it was Gleckman's striking skills that were on display in that fight. Right from the start he pressed the action and landed a left hook and uppercut, staggering his opponent, and setting up the choke for the first round submission win. What makes Gleckman's story even more unique is that he made his pro debut last May at the age of 49.
Bantamweight Featured Bout: German Baltazar vs. Terrion Ware
A battle of bantamweight prospects will take place at 'Pro Series 3' between German Baltazar (3-1) and Terrion 'Flash' Ware (4-2). Baltazar, fighting out of Sugar Foot Training Center and Phenom BJJ, will be making his BAMMA USA debut on September 7th. He enters Pro Series 3 on a three-fight winning streak. During this current win streak, Baltazar holds unanimous wins over James Acosta and Bellator veteran Mario Navarro, and one submission win over Kenny Hutchinson.
Terrion 'Flash' Ware (4-2), fighting out of Systems Training Center, will be making his fourth appearance in the BAMMA USA cage. In his last fight, Ware earned a knockout victory over Bobby Sanchez. The knockout finish was set up by a devastating and well-timed knee strike to Sanchez' head. The highlight reel win earned Ware 'Knockout of the Night' honors. Terrion has won three out of his last four bouts, including wins over Sanchez, Marvin Madariaga, and Justin Santistevan.
Featherweight Featured Bout: Shad Smith vs. Emilio Chavez
For those that have ever witnessed a Shad Smith (12-20-2) fight, no one ever questions his heart, skill and will. This will be the fourth appearance for Smith under the BAMMA USA banner and his fifth fight of 2013. In his last bout, 'The American Badass' Smith took on undefeated prospect Noad Lahat (7-0). With six straight finishes by knockout/TKO or submission, Smith was considered a huge underdog against Lahat. Though Noad Lahat took the win by decision, Smith had done something no other fighter has done against the AKA product; that was to get the fight out of the 2nd round. Shad Smith' MMA fight career includes bouts against UFC veterans Duane Ludwig and Nam Phan, and current UFC bantamweight champion Dominick Cruz. He also holds a 1-1 record against Pro Series 3 headliner and UFC veteran Jared Papazian.
Emilio Chavez (4-5), fighting out of All In MMA, will be making his promotion debut at 'Pro Series 3'. This will be his third fight of the 2013 calendar year. Fans can expect an exciting fight from Chavez, as three out of his last four fights have gone the full three rounds to decision.
'Be First Clothing' Knockout of the Night and Submission of the Night Awards
All fighters competing at 'Pro Series 3'are eligible for the knockout and submission of the night awards that are provided courtesy of the Be First Clothing Company.
Braemer Country Club
An affluent neighborhood in the San Fernando Valley region of Los Angeles, Tarzana is a mostly residential city that sits on the site of a former ranch owned by author Edgar Rice Burroughs. Appropriately, the city is named after Burrough's storybook jungle character, Tarzan. Nestled high in the Santa Monica Mountains with spectacular views of the San Fernando Valley, the Braemar Country Club will be the host venue for BAMMA USA's "Pro Series 3 presented by BAMMA USA"
Ticket Information
Ticket prices range from $60 to $120 per person. Online ticket orders available through TicketForce, visiting http://www.BammaUSA.com, or by calling 714.912.8822.
Pro Series 3 presented by BAMMA USA
When: Saturday, September 7, 2013
Where: Braemer Country Club
4001 Reseda Blvd
Tarzana, CA 91356
Doors Open: 6:00pm PT
First Fight: 7:00pm PT
Pro Series 3 Fight Card*
Main Event: 135lbs: Jared Papazian (16-10) vs. Jeff Martin (10-9)
Co-Main Event: 170lbs: Ozzy Avalos (5-2) vs. Nick Reale (7-6)
180lbs: Robert Gleckman (1-0) vs. Alex Rickards (4-8)
135lbs: German Baltazar (3-1) vs. Terrion Ware (4-2)
145lbs: Shad Smith (12-20-2) vs. Emilio Chavez (4-5)
185lbs: Howard LaCroix (0-0) vs. Moses Murrieta (0-0)
135lbs: David Duran (0-1) vs. Aziz Rashid (0-1)
163lbs: Daniel Clark (1-2) vs. Clayton Macfarland (1-0)
*= Fight Card Subject to Change
'Pro Series 3' Sponsors
Sponsors for 'Pro Series 3' include Terror Trucks Inc, Sensei Ash, Gracie Barra Burbank, Braemar Country Club, RevGear, GoPro, OC Fight Doc, Be First Clothing, My Mortgage Fighter.com, and Alberto Crane Mixed Marial Arts.
About BAMMA USA
BAMMA USA is a mixed martial arts promotional organization specializing in creating live entertainment, featuring professional combatants. It is southern California's leading mixed martial arts organization, providing the area with consistent events and opportunities to professional athletes.
Currently stationed out of southern California, BAMMA USA promotes the area's top local talent from mixed martial arts gyms such as CSW, Knuckleheadz Boxing & MMA, Elite MMA, Kings MMA, PKG, Joker's MMA/Lightning MMA, The Bodyshop, Reign Training Center, Total MMA Studios, Ace Jiu-Jitsu, Cobra Kai, Gracie Morumbi, Cesar Gracie Jiu-Jitsu Academy, The Arena, Subfighter MMA, as well as many others.
Past and current fighters who have worked with BAMMA USA founder Brett Roberts include: Mike 'Joker' Guymon, Vladimir 'The Janitor' Matyushenko, Joseph 'Leonidas' Henle, Georgi Karakhanyan, Gabe 'Godzilla' Ruediger, Jason Lambert, Chad 'The Savage' George, Albert Rios, 'The Real Deal' Chris Beal, Jared 'The Jackhammer' Papazian, and more.
While the promotion prides itself on the motto: "Keep Moving Forward," the ultimate passion for BAMMA USA is to create an environment in which fighters are truly valued.
Web site: http://www.BAMMAUSA.com
Facebook: http://www.facebook.com/bammanation
Twitter: @BAMMAUSA
Instagram: @BAMMAUSA
YouTube: Bamma USA