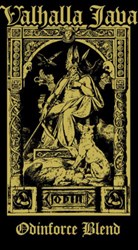 VALHALLA JAVA ALMIGHTY BLACK LABEL!
Round Lake, New York (PRWEB) September 09, 2013
Move over 5 Hour Energy and watch out Rockstar because Zakk Wylde's Valhalla Java is waking up the world in a big way. Wylde has joined forces with Death Wish Coffee Company (maker of the world's strongest coffee) to create a fair trade, organic, all natural dark roast coffee that is ultra-caffeinated and proven to keep drinkers awake without the addition of any potentially harmful additives present in many energy drinks.
Unlike energy drinks and non-organic coffees, Valhalla Java provides chemical free all natural energy from the world's most potent coffee varieties. Using what Death Wish Coffee Company has learned over the years by creating strong palatable coffees, Valhalla Java is a varietal blend whose origins range from the volcanic soils of Indonesia, the fertile soils of the Latin Americas, and the exotic coastline of Brazil. Just the aromas from the brewing process have been described as intoxicating, eye opening, game changing, and heavenly. Drinkers of this coffee also enjoy intense clarity, motivation, and a sense of well-being starting less than 30 minutes after consumption, making it perfect for those who intend to pull all-nighters.
Black Label Society's front man Zakk Wylde, first mentioned Valhalla Java back in early 2011 and in the following years it has become his calling card "VALHALLA JAVA ALMIGHTY BLACK LABEL!!!". Wylde's millions of social media followers have been excitedly awaiting the day when his special brew would be made available to the public. One fan has stated that he is "eagerly awaiting his fix of Doom". That day is here; available on http://shop.blacklabelsociety.com and http://www.deathwishcoffee.com/valhalla-java.html.