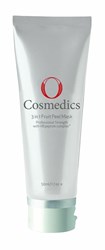 our new 3in1 is a synergy of old meeting new. The good old fashioned gommage combined with just the right amount of multi-fruit and fruit enzymes
Sydney, Australia (PRWEB) September 12, 2013
O Cosmedics founder and creator Marie Enna-Cocciolone is proud announce the launch of the brand's newest triple action mask, the 3-in-1 Fruit Peel Mask.
Rich in mango, pomegranate and papain enzymes and powered by V8 peptide complex, the 3-in-1 Fruit Peel Mask promises to deliver professional results from the comfort of your own home.
This latest O offering, acts as a double exfoliant, peel mask and gommage in one. The mango, pomegranate and papain enzymes which are rich in antioxidants and vitamin A help to remove and turnover redundant skin cells responsible for tired and imbalanced skin. The active enzymes also relieve clogged pores and act as a deep cleanse whilst enhancing moisture levels in the skin supporting cell optimisation.
Working alongside the enzymatic action is Multifruit® BSC a concentrated blend of five botanical extracts; bilberry, sugar cane, sugar maple, orange and lemon which enhance the desquamation process and restore hydration and lipid barriers for normal skin function. When combined together, these extracts have been clinically proven to promote smoother, younger looking skin by increasing the rate of cellular renewal.
O Cosmedics' breakthrough formula V8 Peptide Complex enhances this advanced formulation to provide a safer, more affordable and milder alternative to skin injections by acting as a topical muscle relaxant. The peptide also works to reinforce skin integrity in three key ways; fading skin pigmentation, reducing sallowness, and boosting skin elasticity. Used daily in a regimented home care programme the V8 peptide complex is the ideal substitute for injections.
The application process is simple, the removal theatrical.
Apply a mask like layer and leave on the skin for 5-7mins for full enzymatic peel benefits. Then gently supporting the skin, friction off the mask with fingers. The mask and entrenched cells will glide off the skin to reveal a smooth, radiant and even skin.
Sold exclusively by skin experts, O Cosmedics 3in1 Fruit Peel Mask is enjoying overnight success amongst skin experts and fanatics.
For more information on O Cosmedics contact Inskincosmedics HQ on +61 2 9712 8188