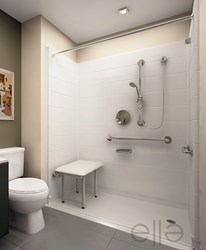 This is one of our largest roll in shower package models.
Boston, MA (PRWEB) September 06, 2013
Wheelchair access showers don't have to be small. A popular online store for hydro-therapy walk in tubs and handicapped shower appliances, Aging Safely Baths announces a new extra-large roll in style shower model that's a spacious 60" x 36".
According to the company, this large shower may be ideal for an elderly person or someone with mobility restrictions who's looking for more room when they bathe. Plus size bathers will also potentially enjoy the extra space this shower provides given large footprint. Customers have the option to purchase this U.S.A. made shower without any accessories, or as a total package. However the package showers offered may save shoppers money versus buying the accessories individually.
Ordering one of these specialty shower packages is actually pretty easy. The packages come with a padded seat with legs, handheld shower wand, 20 gauge vinyl curtain, rings, and curtain bar, Symmons shower valves, chrome screen, 2 ADA safety grab bars and a water stopper. ADA grab bars can be installed directly into the shower walls because they're incredibly sturdy, unlike some of the cheaper plastic models that can be found.
These premium multi piece showers also have numerous threshold heights available. Shoppers can select from .5" to 2" and taller. The company provides wheelchair ramps that can be installed at the threshold to make the transition getting in and out of the shower easier for bathers in wheelchairs, or for those with very low mobility. Several of the models offered don't come in one piece, so typically getting the appliance into the bathroom is much easier. It is important to note however, clients also have the option to purchase single piece shower stalls as well. A single piece shower stall must be measured to fit and it's essential to make sure it can fit through doorways and entrances to the project before ordering.
Bathers who would like more room when they shower will enjoy the large design of this quality low threshold wheelchair accessible shower. The extra room may potentially be used by a caretaker or someone providing assistance to the bather as well. It isn't uncommon for the elderly and people of all ages who have disabilities, to require some sort of assistance when they're taking a bath or shower.
Useful products like these that cater to senior citizens and the disabled are designed with special features not found on most traditional bathtubs. The company sells a wide variety of quality step in tub and roll in shower brands. In many cases the products can be installed into residential homes and make the bathroom more manageable, and even provide a sense of independence for some. Children with or without a disability may also enjoy the many potential benefits of a walk in tub. Parents can easily reach over the side to assist their children in bathing and control water temperature and height.
For more information about Aging Safely's product line, visit http://www.agingsafelybaths.com or contact a customer care representative at the toll free number listed herein. The company has specialists that can help determine which product is the best solution. Contractors and commercial organizations such as hospitals, nursing homes, rehabilitation centers can qualify for special pricing incentives when ordering in large volumes.
Contact Information:
Zach Wennstedt
1-888-779-BATH(2284)
info(at)Agingsafelybaths(dot)com