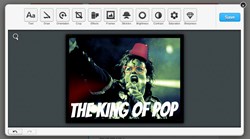 Recently, the big social networks have made major changes to be more visual.
Palo Alto, CA (PRWEB) September 07, 2013
Symphony (symphonytools.com) has designed a social media management tool to help businesses publish better visual content to Facebook, Twitter, and LinkedIn. In addition to its full suite of management and monitoring tools, Symphony gives users the power to edit their photos right within the publishing tool.
Other features include a built-in image search that suggests images to accompany the status update. Integration with Dropbox lets users access their personal library of photos. Additionally, the drag-and-drop feature makes it easy for users to grab images from anywhere on the web.
Of the new publishing features, Founder and CEO of Symphony, Waleed Abdulla said, "Recently we have seen the big social networks make major changes to be more visual. This is where social is headed and we developed our tool as such. There are lots of good social media tools, but they were all developed when it was all about sharing text and links. Symphony was built for the future of social media."
Two months after launch, Symphony is helping users publish over 10,000 images monthly.
Ninua is a 500 Startups portfolio company based in Palo Alto, CA. It builds social media tools for businesses and bloggers. Other products include NetworkedBlogs that has 1.2M blogs registered on it so far.