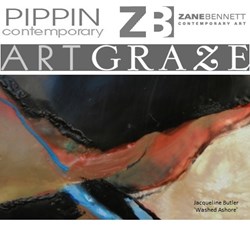 Santa Fe, NM (PRWEB) September 07, 2013
SEPT 13 - 5:30 to 7:30 pm:
ArtGraze Art + Design Salon Show, Pippin Contemporary Gallery, 200 Canyon Road. Includes keynote presentation by ArtGraze artists, designers and galleries, as well as a short introduction to Saturday's Design Salon guest speakers. Show runs from Sept 13 - 15.
SEPT 14 - 1:30 to 4:45 pm:
Zane Bennett Art Gallery, 435 S. Guadalupe. Free to members, $20 / non-members. Space is limited, program begins promptly at 1:30 pm. Schedule as follows:
JACQUELINE BUTLER begins the Sept 14 program with an introduction to ArtGraze and the artists, galleries, artist reps and designers featured on ArtGraze.com. Jacqueline is an artist and the founder of ArtGraze. She combines her experience as a residential interior designer with her eye for recognizing emerging talents in the fields of fine art and design.
SANDY ZANE shares her experience of working in collaboration with architect John Padilla, AIA in the creation of Zane Bennett Contemporary Gallery in the historic Railyard District of Santa Fe. She is an accomplished artist, pilot, and philanthropist, in addition to being the owner of Zane Bennett Contemporary Gallery, for which she was honored by the New Mexico Committee National Museum of Women in the Arts as "Remarkable Woman" in 2012.
ROBERT GAMBLIN is an artist, advisor to the Smithsonian Institute on conservation, and creator of Gamblin Art Materials. Robert will speak on his relationship with color and how he navigates color space.
BERNADETTE VADURRO presents "Three Top Tips for Presenting, How to Sell Your Presentation." Bernadette is a Certified Speaking Professional, past president of the National Speakers Association, and President of Speakers Live, Inc. She is a popular speaker to the AIA, both locally and regionally.
SUZANNA GRATZ is the Director of ArtMuseTV, the "Pandora for Art." She will demonstrate how this online art service provides both residential and commercial clientele with privately curated, streaming fine art entertainment on their TVs, and provides an introduction to new artists and their artwork for purchase.
JENNIFER ASHTON Allied Member ASID, describes her art-inspired signature design style and will announce the upcoming 'Fashion and Design Showhouse, Santa Fe 2013.' Born and raised in Los Angeles, Jennifer owned two successful retail home and gourmet boutiques in Southern California before moving to Santa Fe in 2001 to begin a career in Interior Design.