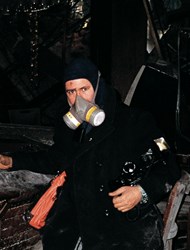 It's always been a duty, a responsibility to speak about my Ground Zero experiences, but now I must move on. It isn't healthy for me anymore to re-live it. - Gary Suson, Official Ground Zero Photographer, Uniformed Firefighters Association
New York, New York (PRWEB) September 09, 2013
He has appeared in interviews on CNN & FOX News affiliates a sum total quite possibly more than any photographer in American History and Gary Suson, the Official Photographer at Ground Zero for the Uniformed Firefighter's Association will call it quits to media interviews after 2013. "I think everything I have wanted to say regarding my experiences at Ground Zero has been said. The things I have not shared, well, I will take those memories to my grave one day," says Suson, days before gearing up to hold what will be his final 9/11 anniversary interviews. "I always get terrible anxiety at this time of year because I know I will have to talk about Ground Zero. Up until now it's been a duty of mine to talk about 9/11 each anniversary but after twelve years it's become too much. I need to look out for myself."
Having appeared on NBC, BBC, FOX, CNN, CBS, SKY and almost every major media outlet across the world, Suson was suddenly thrust into the international spotlight when he emerged from Ground Zero in May of 2002, sitting on a king's ransom of unseen Ground Zero images, contacting the New York Times & stating "I think I have some images you may want to see." The Times thought he was joking at first as it was well known at the time that cameras were not allowed in Ground Zero, but after Suson sent them some images of the "Ghost Train" at Ground Zero, they took him more seriously and called him into their offices to view the collection. Gary Suson's work was first released to the world by writer Susan Sachs of the New York Times on May 28, 2002, who called his collection "Rare Photos" and "Scenes of Awkward Tenderness." A swarm of international attention followed and Suson was ill-prepared, having just spent 7 months in the "hole" at Ground Zero. "I wasn't ready for it. I had not even had therapy yet and had to talk about all the stories behind the images. It was all I could do not to cry, especially on my first CNN interview. Luckily, I had a very sensitive & kind producer on the piece, CNN's Dana Garrett, who helped me get through it." Barnes & Noble Publishing released Gary Suson's book shortly thereafter, entitled, "Requiem: Images of Ground Zero." Suson has had the pleasure to work with many fine journalists and TV/Radio personalities in twelve years. "David Asman of Fox News was a real gentleman. He had a son in the military at the time. They had canceled all interviews the day I was to speak with him and sent everyone waiting in the 'green room' home due to 'High Alert' warnings, when an assistant grabbed my arm and said, "David would really like to squeeze you in, can you stay?" Suson also liked working with Paula Zahn of CNN. "I was terrified of going LIVE on CNN on the one-year anniversary of the 9/11 attacks and she was very calming to me. A real professional. However, the best interviews I did were with NY1 News anchor John Schiumo, who is clearly passionate about everything September 11. He is heartfelt and as sincere as it comes; I could chat with him on-air for hours." Suson plans to release at some point rare, unseen video footage from his explorations of the PATH subway trains and tunnels far below Ground Zero from the Winter of 2001-2. "It is creepy footage; the subway below WTC was the most dangerous place to be at Ground Zero." Suson found & photographed the "GHOST TRAIN" at Ground Zero, the last subway train to pull into the World Trade Center stop and let passengers off before the towers collapsed on 9/11. One night at 3 A.M. in the pitch black, mangled tunnels Suson got lost for hours and shot video of himself trying to find his way out. "Looking back, I was crazy to be down there. It could collapse at any time and the freon vapors & chemicals were higher down there. It was toxic."
Gary Marlon Suson no longer shoots photography and is spending most his time these days on his WTC-related health issues, including COPD (Asthma), Chronic Fatigue (CFS Syndrome) and PTSD. "It's a full-time job," says Suson. He has a small staff who run the daily operations at Ground Zero Museum Workshop, which was just included in Trip Advisor's coveted "Top 25 Museums in the USA" list as well as USA TODAY'S "10 BEST" list of NYC attractions, making it to #5. Suson is currently in talks with major Las Vegas casinos to produce a massive, permanent West Coast 9/11 Museum. "There are so many schools, European tourists and locals alike on the West Coast that cannot, for whatever reason, make it to NYC so it stands to reason they should have their own Museum out there as a tool for education and learning about 9/11. It'd be an honor for me to produce such a worthwhile project for Las Vegas," says Suson. "With 100 Ground Zero stories already recorded & programmed in four languages, it's pretty much ready to go. It also gives parents an optional & important historical excursion to take their kids to while in Las Vegas." States former FDNY Firefighter Rudy Sanfilippo, who was the Manhattan Trustee for New York City's Firefighter's Union, "Gary's Museum works on a small scale in NYC and has received accolades, so there's no telling what he can do on a large scale like Las Vegas. I think it'd be impressive." Echoing those sentiments is retired FDNY Lt. Paul Geidel, a Las Vegas resident who lost his son Gary Geidel of Rescue-1 at the World Trade Center - "Gary Suson is very passionate about telling the stories of the "Recovery" at Ground Zero and he does the right thing by charities also, so I think if the City of Las Vegas has the opportunity for Gary to create such an important Museum, I think they should go for it. It'd be of great benefit to the entire West Coast. The way he presents Ground Zero in his Museum is quite realistic. It's a fitting memorial to 9/11." Gary Suson has raised tens of thousands of dollars for 9/11-related charities from his book and museum sales, which he posts on the museum's TWITTER accounts.
Ground Zero Museum Workshop is open 7 days a week and conducts daily 2-hour tours of 100 Images & Artifacts in Italian, French, Spanish & English. The museum will conduct normal tours on the 9/11 anniversary. Immediate 9/11 family members are welcome free of charge. Tickets for the general public are available by calling ZERVE at 212-209-3370 or online at http://www.zerve.com/groundzero/workshop. Ticket prices are $25/adults and $19/seniors-kids, which go towards the operating costs as well as being shared with several 9/11 and FDNY-related charities. Follow GZMW on TWITTER @911Museum and @911Memorial. On Facebook: Ground Zero Museum Workshop and Instagram, at: GroundZeroMuseumWorkshop.