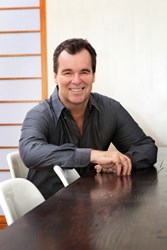 I always say to my students that a U.K. property hotspot is anywhere where you can buy a house with no money
(PRWEB) September 08, 2013
Rick Otton, author of How To Buy A House For A Pound, shares with U.K. home buyers the real secret on how to locate a U.K. property hotspot anywhere in the country with the help of creative real estate processes.
House prices in the U.K. are officially on the rise again, according to the Office for National Statistics. In the past 12 months until June 2013 house prices rose 3.1 percent, and analysts expect that it will jump further to 7 percent in 2014.
In light of these strong U.K. property market assessments, The Telegraph identified 6 property hotspots across the U.K in an article published on 21 August 2013 entitled Britain's best places to invest in property. They are: Wales, West Midlands, Hudderfields, North East, Leighton Buzzard, and Cambridge.
Mr. Otton said in a new interview that "I always say to my students that a U.K. property hotspot is anywhere where you can buy a house with no money."
"This is possible when you connect people with existing debts with those who are willing to pay for these loans. Remember that bank loans are not hard to find, it's the new loans that are hard to get a hold of especially after the global financial crisis of 2008," according to Mr. Otton.
"In connecting these two groups you can create a property transaction which can benefit both parties. The buyers get the chance to become home owners without paying for the additional costs and high deposit rates, while sellers get the chance to earn a little cash flow and back end profit from the sale," he explained.
Mr. Otton, however, reminded transaction engineers that "these results can only be achieved if they find out what both parties want to achieve with the property."
He added that "finding a U.K property hotspot doesn't need to depend on the climate of the property market, it can be found or created anywhere with the help of creative real estate strategies."
Log on to http://www.rickotton.co.uk/ now to register for Rick Otton's 2014 Zero Debt Conference and receive a free copy of the "Power Property Profits Pack."
About Rick Otton
Rick Otton, renowned property investment strategist, has spent decades making money by snapping up inexpensive real estate and putting it to work building wealth, and teaching others to do the same.
He is the founder and CEO of We Buy Houses, a leading property enterprise in the international markets of Australia, United Kingdom, New Zealand and the USA.
Motivated by the "Savings and Loan Crisis", Rick received his start in alternative real estate investment in 1991 in the USA. Within a year, he had acquired 76 properties and in subsequent years, he made a fortune using his low-risk, high-reward strategies to inexpensively acquire real estate. He continues to do so and shares this knowledge to those who are interested to learn.
Rick spends his time between Australia and the United Kingdom, sharing his wisdom and teaching others how to buy and sell real estate, free from the constraints imposed by traditional lenders.
In April 2013, Mr. Otton celebrated the 10th year anniversary of introducing creative real estate strategies in the UK during the Zero-Debt Property Cashflow Conference, which is held annually for people who are interested in learning more about Rick's strategies. The 3-day conference covers all the topics discussed in How To Buy A House For A Pound and how it can be applied successfully in real life scenarios.
Rich has been featured in a variety of television programs and magazines and in 2013 he published 'How To Buy A House For A Dollar' for the Australian market. This book has been named in the list of the Top 10 Most Popular Finance Titles for 2013, as voted by Money Magazine and Dymocks Book stores. He has also recently announced the upcoming release of his book "How to Buy a House for a Pound", which is a compendium of all the strategies a property investor needs to buy and sell houses easily in the UK without the need for traditional bank financing.
Rick's Power Property Profits Pack may be downloaded for free at http://www.rickotton.co.uk/.