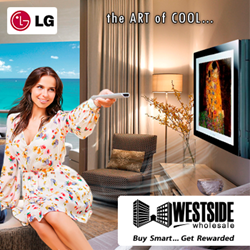 Offering a pallet discount for ductless air conditioning was necessary to meet our customers' needs.
Las Vegas, NV (PRWEB) September 24, 2013
Westside Wholesale Inc. now offers a Pallet Discount program for developers, builders, contractors, and HVAC installers of LG Ductless air conditioning.
"Offering a pallet discount for ductless air conditioning was necessary to meet our customers' needs," said Allen Nazarian, president, Westside Wholesale, Inc. "With this feature, we can offer our customers a reason to complete their project and save money from one source."
The Pallet Discount Program allows customers buying air conditioners in bulk to save 5% on when purchasing $2000 or more. Nazarian recommends that buyers look for an air conditioner with a blend of good design, low cost and efficiency.
"With this in mind, the choice is easy," said Nazarian "LG Electronics offers an excellent ductless air condition with their innovative heating and cooling systems."
In addition, the ductless technology allows saving money on energy bills. Ductless heating and cooling systems feature direct air supply to different zones in homes and buildings by eliminating airflow leaks caused by holes, poor connection of ducts, and more. This improved efficiency can lead to hundreds and, in some cases, thousands of dollars in savings over the course of a year.
LG units also feature design flexibility with the company's exclusive Art Cool technology in addition to enhanced functionality. LG air conditioners are designed for easy duct-free installation to save time and effort, without bulky or unsightly units compromise the integrity of room decor.
The original design of LG ductless air conditioning systems includes a compact and powerful indoor wall-mounted evaporator unit connected to an outdoor condensing unit by refrigerant piping and wires through a 3" hole in the wall. The low-noise system creates an atmosphere of relaxation and tranquility by ensuring natural hot/cold airflow. The functionality also includes remote control operation.
LG Art Cool technology allows hotel owners, contractors, and home owners to display paintings or photos by simply placing them in the Art Cool frame. It works by lifting up the front panel up and out and sliding in the artwork. The Art Cool technology makes it easy to add aesthetic appeal to any room, transforming your air conditioner into a piece of art.
In addition to the above features, LG air conditioning systems are equipped with a three-level filtration system to ensure clean and fresh airflow.
As an added bonus to the Pallet Discount Program, Westside Wholesale rewards its valued customers offering a great opportunity to earn and accumulate Westside Dollars for each purchase over $60 made, both online and by placing a phone order. To ensure full customer satisfaction, Westside Wholesale provides a free shipping option on orders over $99 and same day delivery for even better shopping experience.
Westside Wholesale, Inc. is a Wholesale Distributor for the Electrical, Lighting, Heating & Cooling, Air Quality, Plumbing, Fire Safety, Pool Supply, and other related industries. We have multiple warehouses and offices nationwide servicing the United States, Puerto Rico, Canada, and Mexico stocking the majority of products in our catalog. For more information, please visit http://www.westsidewholesale.com.