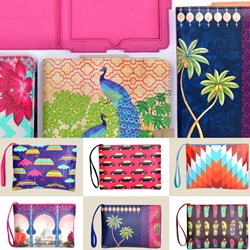 (PRWEB) September 10, 2013
India Circus, the contemporary-chic home decor, lifestyle, apparel, and personal accessories label, by well-known interior designer Krsna Mehta, has launched a new range of products, unique to its design philosophy. The new products have been launched as a part of their ongoing Fall-Winter Collection 2013. These include unique accessories in various categories to be followed by home decor products in the coming weeks. The products introduced currently consist of beautiful and trendy accessories such as iPad covers and Utility pouches. The accessories have a number of themes, from floral designs to ethnic Indian prints. The design label has been inspired by the flora and fauna and rich color schemes, which are the trademark of the Indian subcontinent.
The utility pouches have been introduced by India Circus for the very first time. The design label believes in newer products being available to its audience to maintain a fresh approach. The utility pouches are adorned by trendy graphic designs with a glimpse of everyday India as well as designs inspired by the Mughal era and are reminiscent of its past.
The utility pouches, as the name suggests, is a great accessory and ideal for everyday use, travel being one of them. The quirky and artistic designs are anything but mundane.
The design label has also added iPad covers to its existent range of gadget accessories. India Circus currently retails Laptop sleeves and bags, iPhone covers and iPad sleeves in unique designs as a part of its gadget accessory collection.
The iPad covers introduced by India Circus have very elegant designs; they are fold-able and hence very convenient to carry especially on the run. The designs are set to charm not only academicians but also corporate honchos.