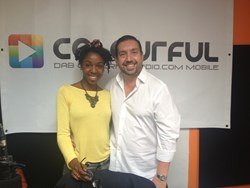 Everyone in business is out there to make money, but do we need to include our youth in that? I don't think we do.
London, UK (PRWEB UK) 9 September 2013
Stevie Hutson, founder of innovative staffing company Superstars returned to Colourful Radio this week to appear on Colourful Life with Jacqueline "Jaxx" Shepherd. This time, Jaxx and Stevie were talking about the business social network, LinkedIn; specifically, about LinkedIn's plan to open its site to children as young as 13.
LinkedIn has announced "Student Pages", an initiative that the site's Christina Allen says is, "one cornerstone of our strategy to help students at every critical milestone from campus to fulfilling, successful careers." Universities and colleges will be able to create their own presences on LinkedIn and students can find out more about courses as well as discover like-minded peers.
The professional and business-focused social network has so far been restricted to adults but in order for Student Pages to work, LinkedIn will be lowering its age restrictions to allow children as young as 13 to join the site, a move which left Stevie distinctly unimpressed.
"I'm just very confused about what they are trying to achieve here," he told Jaxx. "When you're 13 to 16 it's such a confusing time for you that you should just be enjoying the process of that. Meeting your friends, going to places, experiencing - those are really important things.
"Anything out there to give children of today some experience of what the future could be for them in terms of career is great," he added, "My concern is this - children should be children and enjoy life. The way we find our careers is through our life experiences.
"Take me as an example - my mum and dad ran a fish and chip shop and I was in that shop until I was 17-18 years of age. So, I got taught all the business ethics and understanding what profit and loss was."
Steve was quick to acknowledge that LinkedIn is an important tool for both Talent and recruiters. However, it is not without its limitations and it is important to use it as just one element when finding a job or looking for someone to fill a role.
"I think what's happened to LinkedIn right now is it has become a massive recruitment tool for recruiters to find people. The professional network is dominated by recruiters and the message I get from my Talent is that they are fed up of being sent for the wrong jobs or being hassled by recruiters all the time."
Stevie was also skeptical about LinkedIn's true motives for starting Student Pages. "Their main revenue stream is advertising," he told Jaxx. "When they attract 13 year olds on the site, they can say to their advertisers, 'We now have a 13-year-old audience'. The analytics for them would be fantastic.
"Everyone in business is out there to make money, but do we need to include our youth in that? I don't think we do."
"LinkedIn should stay as a professional network. It shouldn't become some sort of hybrid between Facebook and LinkedIn. Children should be allowed to be children and enjoy life experience so they can choose their own careers. Let kids be kids. Have fun, enjoy and that is where you will get your best career from - not from a portal, from life."
Stevie Hutson will be back on Colourful Life with Jaxx next month. You can listen live via the Colourful website or catch up with Stevie's previous appearances on the Superstars YouTube channel.
Superstars is based on a unique new staffing model that eliminates fees and margins forever. Clients work with Talent Managers to get the best staff for their needs and the Talent get amazing opportunities and the best support and mentoring in the industry.
Superstars' clients include BSkyB, Orange, Infosys and Radical Company with more being added all the time.
To find out more about Superstars' unique staffing model and how it can transform the way you hire staff, contact Stevie Hutson - Steve(at)homeofsuperstars(dot)com or visit http://www.homeofsuperstars.com.