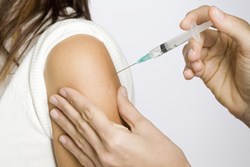 It is particularly important that anyone at risk of heart disease gets the flu jab.
London (PRWEB UK) 6 September 2013
Influenza has been around for millennia, in many different forms and strains, causing a wide range of illness from a very mild or asymptomatic infection to a very serious illness which can result in hospitalisation and death. Although up to 500,000 people worldwide die of severe influenza each year, there has been no clear evidence about who is susceptible for influenza complications and it may not be who people think, says a study from McMaster University.
"Policy makers and public health organizations need to recognize the poor quality of evidence that has previously supported decisions on who receives vaccines during an epidemic," said Dr. Dominik Mertz, lead author of the study and an assistant professor of medicine of McMaster's Michael G. DeGroote School of Medicine. "If we can define the risk groups we can optimally allocate vaccines, and that is particularly important when and if there is vaccine shortage, say during a new pandemic."
The researchers reviewed 239 observational studies between 1918 and 2011, looking at risk factors for complications of influenza including developing pneumonia or needing ventilatory support, admission to hospital or its intensive care unit or dying. 1
Previous research had suggested that flu may encourage blood to thicken or prompt an inflammatory response in arteries that are already narrowed, which could lead to a blockage and a heart attack.
A team from the Australian University of New South Wales were investigating this theory and according to their study suggested that while flu itself did not increase the risk of a heart attack, the jab itself appeared to have a protective effect, reducing the chance of a heart attack by 45 per cent.
"The potential population health impact of influenza vaccination to those who are at risk for heart attack, particularly in the age group of 50-64 years, but not targeted for vaccination, should be further explored. Our data should inform vaccination policy and cardiologists should be aware of missed opportunities to vaccinate individuals with ischaemic heart disease against influenza."
Thembi Nkala, senior cardiac nurse at the British Heart Foundation, said: "The flu can lead to serious illness, so getting your flu jab is vital if you have, or are at risk of, heart disease.
"It's why many heart patients who are deemed at high risk are already offered the vaccination as a matter of routine."
Heart disease is the leading cause of death in the UK, causing around one in five male deaths, and one in ten female deaths. Figures show that around 600,000 people in the UK have narrowed arteries. Mortality rates fell during the 1980s and 1990s amid a reduction in the number of people smoking, and improvement in treatment for heart disease. 2
However, Government forecasts predict that soaring obesity levels will mean increasing numbers of cases of heart diseases. New figures suggest that three quarters of adults could suffer from heart disease, diabetes or related conditions by 2030.
New mothers and obese people, two groups not typically regarded as risk groups, were found to have a higher risk of death and other severe outcomes from influenza, according to the global study sponsored by the World Health Organization.
But, in contrast to current assumptions, ethnic minorities such as American Aboriginal People and pregnant women were not found to have more complications arising from influenza and would not need priority vaccination. The report is published online in the BMJ, August 23, 2013 journal. 3
"This data reinforces the need to carefully define those conditions that lead to complications following infection with influenza," said Dr. Mark Loeb, senior author on the paper. He is also a microbiologist and professor of medicine of the Michael G. DeGroote School of Medicine. 4
Flu jabs are offered on the NHS to everyone over the age of 65, pregnant women, and people with underlying health problems, or weakened immune systems. From next month, all children aged two will be offered a nasal flu vaccine, to limit the spread of outbreaks. The programme will be rolled out to all primary and pre-school children next year, with secondary school pupils starting to be vaccinated in 2015.
ChemistDirect Pharmacist Omar El-Gohary adds: "It is particularly important that anyone at risk of heart disease gets the flu jab because they will be more at risk from serious complications should they contract the flu. Risk factors include obesity, narrow arteries, high blood pressure, diabetes and a history of smoking".
References
1) http://heart.bmj.com/content/early/2013/08/06/heartjnl-2013-304320
2) http://www.telegraph.co.uk/health/healthnews/10257519/All-over-50s-should-get-flu-jab-to-protect-from-heart-attacks-researchers-say.html
3) http://www.bmj.com/content/347/bmj.f5061
4) http://www.eurekalert.org/pub_releases/2013-08/mu-nma082713.php