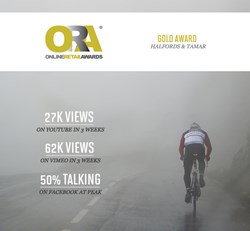 London (PRWEB UK) 9 September 2013
The 2013 annual Online Retail Awards turned out to be a great night for Tamar, the Search and Social Media Agency, thanks to some award-winning client campaigns. Halfords and Tamar picked up a joint Gold award for their work together on last year's "Tour de Francis" digital campaign, with both client and agency teams attending the award ceremony in central London to see them collect the coveted prize.
As well as Halfords, Tamar client sk:n clinics were also finalists in their category, while Tamar were shortlisted for the highly-anticipated 'Agency of the Year' award. Tamar were commended for the excellent quality of their entries and campaigns by the organisers.
Tamar CEO Tanya Goodin - there to see the prizes being given out - commented: "I couldn't be happier that our hard work and partnership with Halfords has paid off and we have won our first major Social Media award in the Retail sector."
ENDS
Notes to Editors
About Tamar
Tamar, the UK's award-winning social and search agency, combines extensive expertise in natural search engine optimisation combined with creative social media campaigns to generate more online sales for businesses. The results-focused delivery of digital campaigns is achieved through the agency's unique combined expertise in social media, search and mobile. Tamar specialises in working with major retail, non-profit and financial services brands. Its extensive, high-profile client base includes Peugeot, Halfords, The Arcadia Group, The Prince's Trust, The Perfume Shop, Sk:n, Which?, and Citi Group.