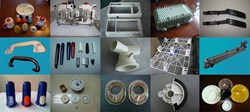 (PRWEB) September 06, 2013
Wuxi Glory Plastics, a well-known company of blow molding and injection molding, has just listed some typical injection molding defects on its website, http://www.plastics-molding.com/.
According to the CEO of the company, who comes to Wuxi Glory Plastics with several years of technology experience working with numerous big companies, these injection molding defects (injection molding shrinking, silver streaks, short shots, flashes, flow traces and more) are shown as injection molding case studies for some new customers or those who are new in the industry, so that they can choose cost-effective mold products prior to purchasing.
The company introduced how to distinguish the mold quality through different Injection molding defects, and hopes to help its customers around the world to find a reliable supplier of injection molding and blow molding.
Wuxi Glory Plastics has been an expert in the industry for many years, supporting its customers with a suite of services: blow molding, injection molding and more. Now, the company is offering many discounted plastic parts with custom designs. All these products can be painted in different colors.
About Wuxi Glory Plastics
Wuxi Glory Plastics is a China based company which was established in 1995. It has become one of the leading suppliers in the plastic industry in China. The core services offered by the company include blow molding and injection molding. Other than this, custom molded parts and various plastic parts are also supplied.
All the details of the defects can be found at http://www.plastics-molding.com/Case_Study.htm.