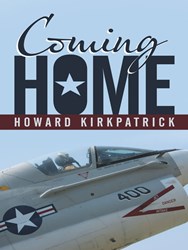 Palo Cedro, California (PRWEB) September 07, 2013
Inspired by his own military experience and the stories of his brother in the U.S. Navy, Howard Kirkpatrick wrote a new, suspenseful novel, Coming Home. Set in the midst of the Cold War in the 1970s, the book tells the story of a pilot that is forced to eject over Russia and has to navigate a new language, country and identity for survival.
The novel details the exciting and dangerous mission of an American pilot, Kevin. Forced to eject while flying over Russia, the young man uses the skills his grandfather taught him about the Russian language and culture. Based on that knowledge, Kevin can assume the identity of a translator and attempt to make his escape west along the Trans-Siberian Railroad.
Through Coming Home's subject matter, readers can gain an understanding of the turbulent time period. A work of historical fiction, the book highlights how the Cold War impacted not only countries, but also individuals and their families.
"The inspiration for this story came from hearing my brother's stories about his time flying spy missions over the coast of Russia," said Kirkpatrick. "I travelled twice to Siberia, and the experiences of these visits combined with his stories sparked the idea for this novel."
For more information, please visit bookstore.authorhouse.com.
Coming Home
By: Howard Kirkpatrick
Paperback: $14.95
ISBN: 9781481749770
Available at bookstore.authorhouse.com, amazon.com and barnesandnoble.com.
About the author
Howard Kirkpatrick is a veteran of the U.S. Army and spent two years in Germany as an artillery sergeant. He then graduated from California State University – Chico with a degree in business administration. He currently resides in Palo Cedro, California, a community near Redding, California, where he owns an independent insurance agency.
Kirkpatrick has served in many positions of influence, including mayor of Redding, a member of the Shasta County Grand Jury and chairman of multiple boards. He also served as Grand Master of Free and Accepted Masons of California.