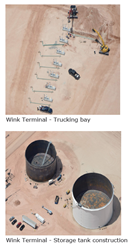 Louisville, KY (PRWEB) September 06, 2013
Genscape reports Genesis Energy's Wink rail loading facility, constructed late last year near Wink, TX, is nearing completion on its Phase II expansion project.
The facility is expanding from a 70-rail-car capacity (48,000 bpd, assuming each rail car holds 685 bbls), to a 140-rail-car capacity (96,000 bpd). The project will also add new storage tanks and trucking capabilities, according to Genesis Energy. The company estimates Phase II to be complete by Q4 2013. The terminal loaded its first unit train in late January of this year and is designed to move West Texas oil from the Permian Basin to "more highly valued markets," according to the company.
Construction on storage tanks at the facility has progressed since Genscape's last flight, according to aerial imagery taken on August 29. Infrastructure on a trucking bay, capable of accommodating seven trucks, was observed at the terminal. Crews were observed laying pipe in a trench near the trucking bay which will most likely connect to the storage tanks. Genscape will continue to monitor progress of construction at the Wink terminal.
This information was sent to Genscape's Real-Time Bakken Data Service clients on September 5. Complimentary trials of all of Genscape's oil market services, including the Bakken Data Service, are available here: http://info.genscape.com/oil-8-13
About Genscape
Genscape is the leading global provider of energy information for commodity and financial markets. Utilizing patented technologies and proprietary algorithms, Genscape provides accurate and timely data on capacities, flow and utilization for all major energy commodities. With thousands of sophisticated energy monitors strategically deployed all over the world, Genscape is unique in its ability to measure and collect energy market fundamentals. These "measured actuals" are then transmitted to clients in real-time or near real-time. Genscape clients often gain first-mover advantage and increased market transparency to better optimize their positions. For more information, please visit: http://www.genscape.com
For all press inquiries please contact:
David Francoeur
Chief Marketing Officer
1 617 852 8868
dfrancoeur(at)genscape(dot)com