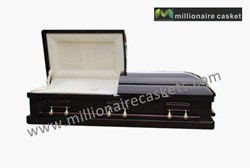 (PRWEB) September 06, 2013
Recently, Millionaire Casket, a leading China casket manufacturer, has launched its promotion of caskets (visit http://www.millionairecasket.com/ for more details), and announced all its caskets are offered at discounted prices, up to 29% off.
According to a spokesman for the company, the promotion is to acknowledge the casket distributors around the world, because Millionaire Casket has grown very fast in the recent years, and it attributes the success to the efforts of casket distributors.
Each casket from Millionaire Casket comes with a special locking system that makes the caskets difficult to open once it is locked. The company has updated its website. Its primary goal is to create an interactive place for casket distributors, so that they can discuss the latest trends and technologies.
Millionaire Casket is one of the leaders in the casket industry, offering many metal caskets, solid wood caskets, cremation caskets, veneer caskets and more. Its sales turnover is expected to double within the next two years.
"We maintain manufacturing and research facilities throughout the world, and we are committed to providing high quality products for our clients so they can be assured that they get what their payments deserve. Now, we are expanding our customer service operations and grow our worldwide facilities," says the spokesman.
About MillionaireCasket.com
MillionaireCasket.com is a leading China casket manufacturer, and focuses on the business of casket wholesale. The standard quality control policy is strictly applied here, and a third party quality assurance is also available.