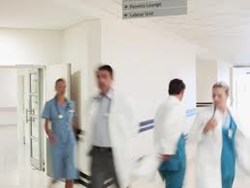 As Steve Allinson has said, improvements needs to be made, but not at the cost of patient care.
(PRWEB UK) 9 September 2013
According to health data analysed by the Manchester Evening News, patients in the region are spending at least 10 minutes longer waiting in A&E, in comparison to the national average (1). With an increase in waiting times reflected in clinical negligence claims, it is important that careful improvements are made.
The recently published figures show that patients at five out of eight hospital trusts in the region are spending at least 10 minutes longer in A&E (1). Consequently, this means that patients in the greater Manchester area are statistically more likely to have a lengthy weight for treatment, compared to patients located elsewhere.
As previously reported by the Manchester Evening News, these figures follow recent reports outlining the failures exhibited by the hospitals included in the data. In particular, Tameside General has been outlined as a cause for concern within the Keogh Report, with patients complaining that they had been left for long periods in waiting rooms and on trolleys.
Highlighted in the aforementioned health data analysis, Tameside General had an above average waiting time of three hours and ten minutes.
Speaking on the report, Steve Allinson, chief officer at Tameside and Glossop Clinical Commissioning Group:
"As the lead commissioner for Tameside Hospital, we will continue to monitor and challenge their performance to ensure targets are met and will provide support and assistance where needed.
"Whilst we are all eager to keep waiting times to a minimum, this must never be at the cost of quality of care."
Placed in special measures, Tameside General Hospital's new interim chief executive Karen James has announced that an action plan is to be implemented, addressing the Keogh report's recommendations.
Discussing the statistics, Asons Executive Laura Williams, made the following statement –
'These figures are concerning to say the least, as a resident of Manchester it worries me that our hospital's waiting times are so below average.
At Asons Solicitors, we see delayed treatment claims, where symptoms have been exacerbated due to lengthy waits. For example, women suffering from ectopic pregnancies require prompt medical attention; should this be denied, they could potentially suffer a rupture within their fallopian tubes. Ruptured ectopic pregnancies have long term implications associated with future health and fertility, an Ectopic Pregnancy misdiagnosis or treatment delay can be sufficient grounds to make a medical claim.
"As Steve Allinson has said, improvements needs to be made, but not at the cost of patient care. It will be interesting to see their new action plan progress."
Making a clinical negligence claim can prevent the same situation from reoccurring, helping others to avoid injury in future.
If you, or someone you know, have suffered, then you may be able to make a claim for NHS compensation. Asons Solicitors deal with medical claims on a regular basis, you can contact them on: 0844 850 1062 or you can fill out their claim form at asons.co.uk
-Sources-
(1) The Manchester Evening News, 'We're stuck in Greater Manchester A&E departments for longer than we should be.' (30/08/2013) manchestereveningnews.co.uk/news/greater-manchester-news/were-stuck-greater-manchester-ae-5816272
About Asons Solicitors:
Asons Solicitors is a Bolton-based law practice that specialises in personal injury and industrial disease claims. Founded by brothers Imran Akram and Kamran Akram, Asons Solicitors has developed to become a young and dynamic law firm that delivers practical solutions to clients in times of difficulty. Their continued focus on their staff has seen them awarded with the Investors in People "Gold Award"; which is reflected in the professional and personable approach they take in working with clients. They strive to grow and to develop, and their supportiveness and attention to detail ensures that their clients use them time and again.
For further information contact:
Email: info@asons.co.uk
Website: http://www.asons.co.uk