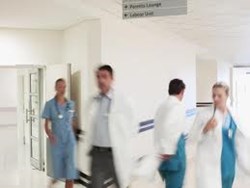 Had Mrs Aston's cancer been picked up from an earlier X-ray then appropriate end-of-life care could have been put in place.
Bolton, UK (PRWEB UK) 11 September 2013
As reported in the Worcester News, an elderly woman died after being treated for a condition she had been misdiagnosed with. Allegedly diagnosed with Pneumonia, rather than the cancer she suffered with, her family firmly believe that her cancer misdiagnosis prevented her from dying peacefully (1).
Sandra Aston was admitted to the Alexandra Hospital in Redditch, and died less than a week later of lung and liver cancer (1). She was allegedly misdiagnosed with Pneumonia, despite her cancer showing on the x-rays performed during her admission (1). Speaking as her GP, David Farmer, from Merstow Green Medical Practice, stated (2)
'Had Mrs Aston's cancer been picked up from an earlier X-ray then appropriate end-of-life care could have been put in place.'
As reported in the Evesham Journal, it was only when a physiotherapist spotted Mrs Aston's condition and reported it to a senior doctor that the family were allegedly told how serious her situation was (2). Further tests confirmed the diagnosis as lung cancer, and discussions regarding appropriate care began.
Tracey Holmes, Mrs Aston's daughter, reacted as follows (1):
"If we had known Mum had cancer she could have gone to a hospice and died peacefully. But the first we heard of it was when a junior doctor mentioned it in passing. The word 'cancer' had never been mentioned.
"The saddest thing was that Mum loved that hospital and had always chosen to go there. The place she put her faith and trust in let her down in the end."
The Alexandra hospital has apologised, describing aspects of her care as "unsatisfactory", adding that they were "deeply sorry" (1).
Considering the circumstances, Asons Executive, Laura Williams:
"At Asons Solicitors, we often see medical claims being made for cancer misdiagnosis compensation. Often patients are only diagnosed when their cancer has become too progressive to be treated effectively. In Mrs Aston's case, had her diagnosis come sooner, she could have died with the dignity she deserved.
Misdiagnosis compensation can never balance the damage done, but in our experience, an admittance of guilt, and an assurance that lessons have been learnt, can be of comfort to the family."
In the event that you consider yourself to have been subject to cancer misdiagnosis, you must seek legal advice as quickly as possible. Making a medical negligence claim can prevent the same situation from reoccurring, helping others to avoid injury in future.
If you, or someone you know, have suffered as a result of medical negligence, then you may be able to make a claim for NHS compensation. Asons Solicitors deal with cancer misdiagnosis claims on a regular basis, you can contact them on: 0844 850 1062 or you can fill out their claim form at asons.co.uk
-Sources-
(1) The Worcester News, 'Mum died without basic human dignity' (27/08/2013) http://www.worcesternews.co.uk/news/10634865.Mum_died_without_basic_human_dignity/
(2) The Evesham Journal, 'Alone and thirsty... my mother's shameful end' (29/08/2013) eveshamjournal.co.uk/news/10639048.Alone_and_thirsty____my__mother_s_shameful_end/

About Asons Solicitors:
Asons Solicitors is a Bolton-based law practice that specialises in personal injury and industrial disease claims. Founded by brothers Imran Akram and Kamran Akram, Asons Solicitors has developed to become a young and dynamic law firm that delivers practical solutions to clients in times of difficulty. Their continued focus on their staff has seen them awarded with the Investors in People "Gold Award"; which is reflected in the professional and personable approach they take in working with clients. They strive to grow and to develop, and their supportiveness and attention to detail ensures that their clients use them time and again.
For further information contact:
Email: info(at)asons.co.uk
Website: http://www.asons.co.uk