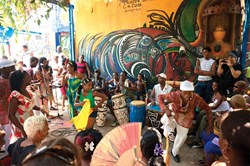 We've been bringing Americans to Cuba since 2000, but the doors to the jazz and music community in Havana fly open each time JazzTimes' publisher, Lee Mergner travels to Havana with us
(PRWEB) September 10, 2013
Thanks to a special license issued by the U.S. Department of the Treasury, music aficionados can soak up the live sounds of Cuba's jazz scene through people-to-people contact with artists and experts on location in Havana. JazzTimes, in partnership with Insight Cuba, the leading provider of U.S. licensed people-to-people travel to Cuba, is offering 11 Jazz in Havana departures from October 2013 through June 2014. The exclusive 5- day/4-night tour provides music fans a rare look at the thriving Cuban jazz scene through direct interaction with some of the most engaging musicians in Havana.
"We've been bringing Americans to Cuba since 2000, but the doors to the jazz and music community in Havana fly open each time JazzTimes' publisher, Lee Mergner travels to Havana with us," says Tom Popper, president of Insight Cuba. "We offer five other tours to Cuba, but Jazz in Havana continues to be a fan favorite."
A look at the itinerary helps to explain why Jazz in Havana has been a favorite of jazz and music lovers. A typical program starts in Old Havana, a UNESCO heritage neighborhood studded with noteworthy architecture—from Neo-Gothic plazas to classic Moorish courts. Participants drop by an engraving studio where artists regale visitors with stories about their inspiration and current exhibitions, before heading to like La Zorra y El Cuervo, a famous jazz club, for a meeting with Cuban jazz musicians and maybe even a private concert where all are encouraged to join in.
The rest of the tour balances art encounters with musical interludes and provide opportunities to engage with Cuban jazz musicians who open their hearts about how music is helping to shape the island's cultural identity. Participants also journey to Matanzas, a nearby northern city, known as the Venice of Cuba with its waterway canals, to visit a publishing house specializing in the creation of handmade books. Guests continue on to meet the members of a local folkloric music group, where young musicians share how Afro-Cuban culture has influenced the island's sounds. It's a tour that goes well beyond what you'll find in any guidebook.
"Since the inception of Insight Cuba and JazzTimes' partnership, over 1,000 American jazz and music fans have legally traveled to Cuba to experience the island's electric jazz performances and vibrant culture," said Lee Mergner, publisher for JazzTimes. "We are delighted to continue offering U.S. travelers a taste of Cuba's one-of-a-kind jazz scene, unlike that of any other destination."
Insight Cuba handpicks exclusive experiences and keeps its groups to 24 people maximum. Rates for the Jazz in Havana tour start at $2,795 per person double occupancy and include: first-class accommodations, Cuban guide, Insight Cuba tour leader, all meals, U.S. Department of the Treasury license and Insight Cuba letter of authorization, all entrance fees to scheduled activities and events, all in-country ground transportation and transfers, travel health insurance, emergency medical evacuation, trip cancellation insurance (up to $1,000; additional coverage for a fee), an Insight Cuba guidebook, and a 24-hour custom service service hotline.
For fully detailed itinerary on this tour and other Insight Cuba travel programs, visit http://www.insightcuba.com or call 1-800-450-2822. To stay connected with Insight Cuba, follow @insightcuba or 'like' the Insight Cuba Facebook Page.
About JazzTimes
JazzTimes is published by Madavor Media, which owns enthusiast magazines and web channels across several interest areas, from sports to music to surf fashion and culture. Additional titles include BirdWatching, Foam, Gluten-Free Living, GolfGetaways, International Figure Skating, Volleyball and The Writer. For more information, visit http://www.madavor.com or call 800.437.5828.
About Insight Cuba
Insight Cuba is the leading provider and pioneer in legal people-to-people travel for Americans to Cuba. Since its inception in 2000, the organization has sent more than 6,000 participants on hundreds of tours and crafted over 100 custom group programs. When travel to Cuba was reauthorized for all Americans in 2011, this not-for-profit company (a division of Cross-Cultural Solutions) was the first to bring American travelers back to Cuba. Six programs with 150 departures are scheduled through June 2014 featuring original experiences that put American visitors in direct touch with Cuban people and culture.
# # #
Contact:
Lee Mergner, JazzTimes
(617) 315-9154
Lmergner(at)jazztimes(dot)com
Jennifer Reisfeld, Spring O'Brien
(212) 402-1624
Jennifer(at)spring-obrien(dot)com