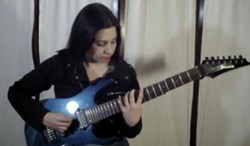 Los Angeles, CA (PRWEB) September 07, 2013
"Lead guitar Lesson - Cool Pentatonic Patterns with Rhythmic Displacements" is the latest YouTube lesson from Guitar Control, the leader in web-streamed instruction and comprehensive DVD-based courses. In this video, Alejandra Mesliuk shows how changing the emphasis on the individual notes that are found in a repeating pattern alters the sound and mood of the pattern.
Guitar Control is a consortium of professional guitarists dedicated to providing the highest quality musical instruction. Producing both web-streamed lessons and comprehensive multi-DVD courses, Guitar Control offers instruction for every style of playing and for all musical genres. Guitar Control's YouTube channel offers 380 (and counting) free video lessons.
The foundation of this lesson is a repeating pattern based on the pentatonic scale. As its name denotes (the greek word penta means five) the pentatonic scale is a simple 5 note scale. It is that simplicity that has made it so ubiquitous in Rock and the Blues. Given the tonal versatility of the guitar, pentatonic scale patterns can be played virtually anywhere on the fretboard. In this example, the pattern begins on the 8th fret of the low E string, lands on the 13th and 11th frets of that string, jumps to the to the 10th, 8th, 13th and back to 10th fret of the of the A string, and continues along, string by string, until it resolves on the 13th fret of the high E string. The available tabs (tablature notation) make everything clear.
On its own, this is an interesting and useful pentatonic pattern, but what makes this lesson truly valuable is Alejandra's demonstration of how changing the emphasis on the notes, alters the sound of the pattern. First time through, the accent is on the first note. The second time, it's on the second note. And so forth. The notes remain the same, but with each pass the feeling changes. And music, of course, is all about feeling.
This is a simple but powerful lesson. Deciding which notes to accent is the key to playing with emotion. Alejandra demonstrates how even with a simple pentatonic pattern, emphasis changes everything. And this lesson is available to players at every level. Alejandra does not burden novices with theory; she just shows you how to play the pattern, and how the weight given to a particular note alters it's meaning. The unstated, but significant, goal of this lesson is to get the student to think emotionally. It's not just the notes; it's how you play them.