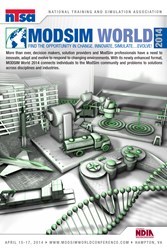 Contributors of selected papers and posters will be invited to lead and participate in panel discussions and presentations during plenary and scheduled breakout sessions.
Arlington, VA (PRWEB) September 13, 2013
MODSIM World 2014 is pleased to announce the Call for Abstracts. Abstracts can be submitted online at http://www.modsimconnected.com by October 31, 2013.
More than ever, decision makers, solution providers, and modeling & simulation (M&S) professionals have a need to innovate, adapt and evolve to be able to respond to changing environments. With its newly enhanced format, MODSIM World 2014 connects individuals to the M&S community, and problems to solutions, across disciplines and industries.
MODSIM World 2014 will take place April 15-17, 2014 at the Hampton Roads Convention Center in Hampton, Virginia. MODSIM World 2014 is a unique, multi-disciplinary, and international conference and exposition for the exchange of M&S knowledge, research, and technology across industry, government, and academia. This year's theme,"Innovate, Simulate…Evolve," responds to the changing fiscal environment and increasing need to connect M&S vendors to decision makers and M&S practitioners to each other.
MODSIM WORLD 2014, in keeping with its theme, is also evolving to facilitate this exchange. In addition to the planned presentation of papers, posters, and discussions of people engaged in or leveraging M&S, this year's program promises more unique events, such as an Entrepreneur Competition, Technology Demonstrations, Grand Challenges, and Industry Workshops to provide an even more dynamic and engaging environment to showcase your ideas and accomplishments.
Contributors of selected papers and posters will be invited to lead and participate in panel discussions and presentations during plenary and scheduled breakout sessions. Past MODSIM World conference tracks have included:

Engineering and Applied Science
Homeland Security and Cyber Analytics
Education and Workforce Development
Defense, Healthcare and Medicine
Abstracts addressing crosscutting applications in M&S are welcome. Final conference tracks will be selected based on the accepted abstracts, but it is anticipated that at a minimum these tracks will be topics of discussion along with possible new tracks yet to be finalized.
Submission of abstracts is done via http://www.modsimconnected.com and additional information on MODSIM WORLD 2014 is available at http://www.modsimworldconference.com. MODSIM World 2014 is currently accepting abstracts of proposed papers, posters and panel sessions through October 31, 2013. Abstract submittal guidelines are below.
Contact Michael Spitz at michael(dot)j(dot)spitz(at)saic(dot)com with any questions.
Submittal Guidelines: Abstracts should be less than 150 words and should be informative at a level that is comprehensible to an audience familiar with the subject matter. Abstracts should detail the essential highlights of the proposed paper or presentation and must include (1) a concise and effective title and the author(s) affiliation(s); (2) a short statement of the main point(s); (3) the methodology (for experimental and survey work); (4) the scope of the work; and (5) key findings and major conclusions. Abstracts should be stand-alone, coherent, and succinct. It should not contain or offer information not included in either the paper or presentation. The abstract is what the reviewers will use to determine whether to accept or reject submittals. As a condition of acceptance, the author(s):
Warrants that all approvals (internal and external) have been received by the time the complete paper or presentation is accepted and delivered at the conference. By approvals, we mean that the work is original; that the information can be freely distributed; and that any and all issues regarding copyright, trade secrets, image releases/permissions, and proprietary data have been resolved. If the required approvals are not received by the start of the conference, the paper will be withdrawn, cannot be presented, and will not appear in the conference proceedings.
Agrees that his/her paper will be peer reviewed for technical accuracy and it will be edited for grammar, style, punctuation, and consistency and grants permission to include his/her work in the proceedings.
Agrees to register for the conference and agrees to abide by the "no paper, no podium rule."
Create your personalized submission area and submit your abstract at http://www.modsimconnected.com.
About NTSA
Founded in 1988, National Training and Simulation Association (NTSA), an affiliate subsidiary of the National Defense Industrial Association (NDIA), fosters communication between the training agencies regarding requirements, procurement issues and policies. Representing companies in the Simulation, Training Services and Related Support Services Industries, NTSA is a focused, formal organization that represents and promotes its members' business interests in the marketplace. NTSA is committed to ensuring that all aspects of training systems development and training services requirements are highlighted as independent and important "line items" in the overall planning, programming, budgeting and acquisition process.