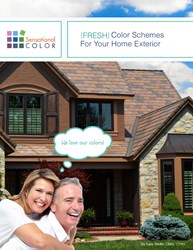 Columbus, OH (PRWEB) September 10, 2013
Can colorful windows really help add curb appeal to a home? According to color expert Kate Smith, the answer is "definitely!"
Smith, a career color trend forecaster and president of Sensational Color, believes that adding color to key products on the home's exterior can increase the value of the home, add curb appeal and enhance the overall living experience for homeowners. To show both building industry professionals and homeowners how to add "top down" color to the home, Smith has teamed up with Simonton Windows and several other building product manufacturers to introduce the new 36-page FRESH Color Schemes for Your Home Exterior guide.
Available as a free download at http://colorguide.simonton.com/, the step-by-step guide shows homeowners how to select colors that enhance the exterior features of their homes. A variety of home styles are matched up with different color palettes in the FRESH Color Schemes for Your Home Exterior guide, including Ranch, Colonial, Bungalow, Victorian, Spanish Mission, European and New American. Smith offers several color combinations for each style's exterior along with tips for making homes complement their neighborhood settings.
"In working from the top down on a home to add color, we start with the roof and siding, then come to the windows, doors and trim," says Smith. "I've found that with Decorum® by Simonton window options it's easy to add colorful windows to the home. Exterior frame color options include Pine Green, Brick Red, Chocolate, Bronze, Cream and Driftwood. Those complementary colors work with many different palettes and can combine to bring color and elegance to any style home.
"I'm a firm believer that homeowners should not be locked in with a boring exterior just because they're afraid to add color. This book provides tips for homeowners to confidently add color to their home exteriors. Whether it's adding vinyl replacement windows with colorful frame options or accenting windows and doors with painted crossheads and pediments, the home's exterior is a blank canvas just waiting to be splashed with color!"
The comprehensive and colorful online piece was a collaborative effort of Smith and several building product manufacturers, including DaVinci Roofscapes®, Fypon, Simonton Windows and Therma-Tru.
The free color guide is located on each company's web site (go to http://colorguide.simonton.com/ to download from the Simonton site), or http://www.sensationalcolor.com developed by Smith. Her first ebook in the series, FRESH Home Exterior Colors, is also available for free at http://www.sensationalcolor.com. That 30-page step-by-step tutorial provides insights on adding color to the home exterior by using the FRESH approach, which stands for Fixed features, Regional colors, Environment and surroundings, Style of the home, and Have-to-use colors.
About Simonton Windows
Simonton Windows has been ranked "Highest in Customer Satisfaction with Windows and Doors, Four Years in a Row. Tied in 2013." by J.D. Power and Associates. Simonton produces ENERGY STAR® qualified vinyl replacement and new construction windows and doors, including a line of impact-resistant products.
Simonton was also ranked #1 in quality in the 2013, 2009, 2007, 2002 and 1998 Brand Use Studies sponsored by Builder magazine and has won three Best In Class Awards administered by LBM Journal Research Institute.
Founded in 1946, Simonton's hallmark has been to deliver the industry's shortest, most dependable lead-times. Part of Fortune Brands Home & Security, Inc. (NYSE: FBHS), Simonton delivers award-recognized products to key markets throughout the 48 continental United States and North America. Simonton is a Founding Sponsor of The Weather Museum, a Lifetime Founding Sponsor of the Lead Safe America Foundation, and a supporter of Homes for Our Troops. For information, call (800) SIMONTON (1-800-746-6686) or visit http://www.simonton.com.
Simonton Windows received the highest numerical score among window and door manufacturers in a tie in the proprietary J.D. Power and Associates 2010-2013 Windows and Patio Doors Satisfaction StudiesSM (Tied in 2013). 2013 study based on responses from more than 2,554 consumers measuring 11 brands and measures opinions of consumers who purchased new windows or patio doors in the previous 12 months. Proprietary study results are based on experiences and perceptions of consumers surveyed in January – February 2013. Your experiences may vary. Visit jdpower.com.
ENERGY STAR is a government program that helps consumers protect the environment through superior energy efficiency and is a registered trademark of the U.S. Department of Energy and the U.S. Environmental Protection Agency.