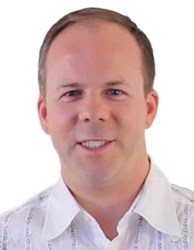 This training series is a game-changer for those ready to build their list, serve more people, make more money and make a difference.
STAMFORD, Conn. (PRWEB) September 08, 2013
Derek Fredrickson, CEO and Online Marketing Coach of ClientAttraction.com and The Client Attraction Business School™ is revealing his proven step-by-step system for authentic email list building in a free three-video training course.
Affectionately known by his students as "The List Building Ninja," Fredrickson teaches online marketing strategies that are easy to implement, genuinely authentic and proven to work. Since joining Client Attraction four years ago, Fredrickson has dedicated his focus to one topic—list building.
This no-charge three-part Client Attraction List Building video series will teach entrepreneurs how to authentically build their email subscriber list, a business asset potentially worth millions of dollars.
The Client Attraction List Building video series is based on Fredrickson's list building strategies revealed at his highly acclaimed two-day live event called the List Building Intensive, recently held in Stamford, CT.
"Word travels fast. Following the List Building Intensive, we heard from several of our students and colleagues who weren't able to make the event but heard that it was a real game-changer for so many. So, I put together this free video training series in response," says Fredrickson. "It's packed with content and after the third video, participants will be given the opportunity for deeper learning through my new Client Attraction List Building Coaching Program."
Training Video #1, where Derek teaches the importance of building your email subscriber list, was just released to dozens of rave reviews from participants. (See comments on the video training page.)
List building expert, Derek Fredrickson knows from experience that there are many strategies out there that can cost entrepreneurs a lot of time and money, are often slick and inauthentic and end up missing the mark. Over the years, he's cut through the hype and fluff to focus on the most effective tools, strategies and techniques that not only builds a massive email list with authenticity and integrity but ensures that list is made up of ideal prospects who will benefit from the entrepreneur's message. He has since built the Client Attraction list to over 75,000 email subscribers—that's a 777 percent increase in just three years.
Fredrickson has worked with hundreds, if not thousands of students and clients that invest multiple five figures for him to privately teach them how to build their email list the right way. His students are getting consistent, amazing results in building their own email list using these easy to implement strategies and techniques.
List building student Laura Clark states, "Derek's list building program was filled with high-end strategies that he presented clearly and was jam packed with content, yet not overwhelming. His teaching style made it all so easy to understand. With his support and teachings, I received a strategic plan that I was able to start implementing right away. In just 30 days since the training, I've drawn more people to my social media outlets, tripling my Twitter followers and doubling my Facebook fans. My website traffic has also tripled and is bringing more people onto my list daily. Most importantly, my list size has more than doubled!"
To access this free Client Attraction List Building video training program, visit http://clientattractionlistbuilding.com/.
###
About Derek Fredrickson and ClientAttraction.com:
Derek Fredrickson is head Online Marketing Coach of The Client Attraction Business School™ and CEO of ClientAttraction.com, a company devoted to teaching entrepreneurs around the world how to consistently attract ideal, high-paying clients and ranked repeatedly by Inc. magazine as one of America's Fastest Growing Private Companies. He specializes in coaching entrepreneurs on how to attract more clients and multiply their current revenues through online lead generation, list building, internet marketing, building traffic, social media strategies, video, product launches, online marketing sequences, search engine optimization and pay-per-click. He also guides private clients on setting up profit-generating membership sites and creating information products for passive and leveraged-in-come. Through products, private coaching and live events, Derek shows his clients how to master the online marketing they need to dramatically increase their reach and business results.