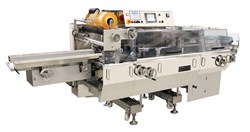 Rocky Mount, NC (PRWEB) September 06, 2013
Ossid, powered by Pro Mach, is showcasing at Pack Expo 2013, September 23-25 in Las Vegas its 500Si stretch overwrapper. This machine is designed for red meat, pork, poultry, and produce packers that want a quality overwrapped package at a moderate price, and a machine that tightly wraps low- or high-profile case-ready packages. The 500Si features an open stainless steel frame, a variety of standard features, and a wrap rate of up to 120 trays per minute (Ossid Booth C-2417).
The 500Si reduces consumable costs compared to standard overwrappers. Servo-driven technology reduces downtime and maintenance cost while speeding up changeover. This machine features Ossid's gripper chain stretch technology – the same technology found on the company's top of the line models: 400E, 500E, 500im, and 750E. The gripper chain provides consistent film stretch, ensuring optimum package appearance in the retail case.
The machine's easy-to-operate control panel can store up to 50 tray programs, making product changeover simple and accommodating to a broad range of operator skill levels. The machine's stainless steel open frame makes it easy for operators and maintenance personnel to access machine components.
For more information on the innovative 500Si stretch overwrapper, stop by the Ossid Pack Expo booth C-2417. To learn more about the company's full line of high speed packaging equipment, including weigh-price labelers, overwrappers, horizontal form-fill-seal machines, and in-motion case-weight scales, contact the Ossid sales department at 1-800-334-8369 or visit http://www.Ossid.com.
About Ossid
Ossid, powered by Pro Mach, is a leading North American designer and manufacturer of packaging equipment solutions for fresh and processed protein products, convenience foods, medical devices, and consumer goods. Ossid's principal product lines are weigh-price labelers, case-ready tray overwrappers, horizontal form-fill-seal machines, and in-motion case-weight scales. http://www.Ossid.com
About Pro Mach
Pro Mach is a leading provider of integrated packaging products and solutions for food, beverage, household goods, pharmaceutical, and other diverse consumer and industrial companies. Through multiple business units and related brands, Pro Mach provides equipment, installation, training, parts, and service in primary and secondary packaging, flexible packaging, end-of-line packaging, material handling, and identification and tracking.
Pro Mach has a diverse customer base, from Fortune 500 companies to smaller, privately-held businesses worldwide, which depend on reliable, flexible, technologically advanced packaging equipment and integrated solution sets. Pro Mach is headquartered near Cincinnati, Ohio with manufacturing facilities and offices throughout the United States and Canada. For more information about Pro Mach visit our website at http://www.ProMachInc.com.