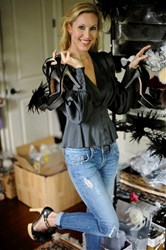 Virginia Beach, Virginia (PRWEB) September 06, 2013
The Virginia Beach based lawyer, turned entrepreneur has developed a new collection of women's shoes and sandals featuring removable accessories. The shoes have a unique feature giving the consumer the ability to wear them either with or without a variety of accessories allowing them to create multiple looks with just one pair of shoes.
WWD Footwear News gives us a "First Look" at Kristen Randolph's new footwear lines available in stores for spring 2014. The collection features both a luxury line and a line of sandals. The luxury line is made by hand in a small Brazilian factory. Kid suede, nappa leather and Brazilian hardwoods are used for these creations.
"When I was busy logging my hours as a prosecutor, I would have loved to have that one statement (footwear) piece that could take my outfit from the courtroom to cocktails without having to pull a complete wardrobe 180. It would have been wonderful to be able wear a fitted dress under a jacket to court with a pair of "naked" shoes - without ornaments - then at the end of the day, shed my jacket, put on red lipstick, pop on a shoe accessory and be ready for cocktails or the club.
"Because of our interchangeable accessories, k.r. shoes will transform your look so you can live in the moment and express your many different facets," says Randolph.
The line also makes a fabulous traveling companion, allowing women to pack just one pair of shoes or sandals with multiple accessories and customize their look with each outfit. Whether they are headed to the beach or the city, Randolph's new lines have them covered with both an interchangeable line of luxury footwear and interchangeable line of flip flops. Both lines can be worn with or with out accessories giving them new flexibility.