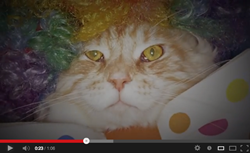 What role will cats play in the progressive labour movement? Plenty.
Toronto, ON, CA (PRWEB) September 06, 2013
Communications agency K+CO has partnered with the Canadian Union of Public Employees (CUPE) in Ontario to promote their new campaign, Stand up for Fairness. As part of a series of spots, K+CO launches the first video in an attempt to build awareness for the campaign.
Historically, unions have protected the interest of its members. They are responsible for many of the comforts we enjoy today, most notably the creation of the weekend. Despite this, unions were the first to be blamed for the struggling economy. CUPE Ontario wants to change any negative views Canadians' may have of unions.
The idea of sending an important message and reaching a large, diverse audience is difficult in this day and age, especially when the message is as complex. With the introduction of the Stand up for Fairness campaign, CUPE Ontario decided to use non-traditional methods to reach their audience. K+CO wants to help CUPE Ontario cut through the clutter, while appealing to the mass public.
"My team wanted to showcase the benefits of unions from a completely different angle – one that would make everyone chuckle," notes Ahmad Ktaech, Managing Director, K+CO.
"It's not everyday that you see labour unions and animals sharing the same spot," comments Howard Sato, Copywriter. "We want to reach as wide of an audience as possible with this campaign to help CUPE Ontario get its message across."
Has the approach worked? Judge for yourself.
To view the video, please visit https://www.youtube.com/watch?v=vjjGFHSEjIU.
To view the campaign, please visit http://www.standupforfairness.ca/.
For more information about K+CO, please visit http://www.kandco.ca.