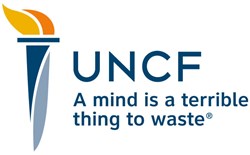 East Hampton, NY (PRWEB) September 06, 2013
FOR REPORTERS: To access pictures of the UNCF "A Mind Is …" Hamptons Summer Benefit, please go to https://uncf.box.com/s/yf2mzhdz1idacqec1n9d .
New York business, civic and community leaders joined UNCF (the United Negro College Fund) – the nation's largest and most effective minority education association – on Saturday, August 24, at the second annual "A Mind Is …" Hamptons Summer Benefit. Held at the East Hampton Point Resort, the event celebrated education and called on supporters to invest in better futures for African American and other students of college by ensuring they receive the education they need and the county needs them to have as they prepare to become the leaders of the 21st century. The Hamptons Summer Benefit raised more than $60,000 toward that goal.
"On behalf of UNCF and the students we serve, I want to thank everyone who came out and supported our young people through this wonderful event. They are the reason we are able to support more than 60,000 students each year through 13,000 scholarships under 400 programs," said Maurice Jenkins, senior vice president of UNCF. "We need to invest in their dreams through a new philanthropy that will pay dividends for them, and for all of us."
The "A Mind Is …" Hamptons Summer Benefit was hosted by the UNCF Leadership Council of New York. Sylvia and Kenneth Woods, owners of legendary Sylvia's Restaurant in Harlem also attended, as did Camille Clark and members of the Metro Manhattan Chapter of The Links. Dr. Luther Clark, global director, Merck Scientific Affairs, Olympic fencing champion Keeth Smart and Nicole Christie of NBC's "Fashion Star" and H&M communications executive also attended the event.
Several key supporters were inducted in the "A Mind Is …" Giving Society in recognition of their support for UNCF education initiatives. They were:

Sylvia Woods; broker/owner, Heritage Real Estate Services, Inc.;
Toyanna Mayo; deputy chief compliance officer, Perella Weinberg and member, UNCF Leadership Council of New York;
Roderick A. Hardamon; North America head of Citigroup Alternative Investment Services and vice chairman, UNCF Leadership Council of New York;
Andwele Lewis; vice president, Morgan Stanley;
Shyra Smart; director of Strategy and Operations, Viacom Networks;
Camille Clark; wife of noted cardiologist Dr. Luther Clark;
Dr. William J. Gibbs, physician and member, UNCF Leadership Council of New York.
The UNCF "A Mind Is …" Hamptons Summer Benefit was sponsored by Carol's Daughter, House of Mandela Fine Wines and UPTOWN Magazine.
Events such as the Hamptons Summer Benefit are a call to action. While a college education is more important than ever, it is becoming more difficult than ever to get. The number of students applying for UNCF scholarships increased to 64,421 in 2012 from 59,008 in 2011 – an 8% increase. While on his recent college affordability tour, President Obama pointed out that the cost of a college tuition has risen 250% over the past 30 years, while the average family income has only risen 16% during that same time. Students need financial support and strong academics, as well a college-going culture that enlists families, schools and communities to help them get to their destination.
Guests at the "A Mind Is …" Hamptons Summer Benefit heeded that call to action, making an investment in better futures for students in New York, and in a better future for the country.
About UNCF
UNCF (United Negro College Fund) is the nation's largest and most effective minority education organization. To serve youth, the community and the nation, UNCF supports students' education and development through scholarships and other programs, strengthens its 37 member colleges and universities, and advocates for the importance of minority education and college readiness. UNCF institutions and other historically black colleges and universities are highly effective, awarding 20 percent of African American baccalaureate degrees. UNCF administers more than 400 programs, including scholarship, internship and fellowship, mentoring, summer enrichment, and curriculum and faculty development programs. Today, UNCF supports more than 60,000 students at over 900 colleges and universities.