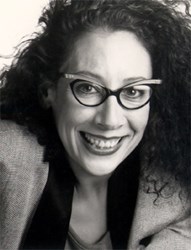 When laughter is shared, it increases happiness and trust and triggers healthy physical changes in the body.
Manhatten, New York (PRWEB) September 17, 2013
New York's celebrated and acclaimed entertainer, actress, healer and Laughter Yoga guru Beth Bongar (aka the Laughing Diva) will be a featured guest speaker and provide free Laughter Yoga workshops at the New York Dharma & Yoga Fest on Sept. 21, 2013, at Highlands Middle School in White Plains, N.Y.
The Dharma & Yoga Fest is a day-long festival for yoga/health-and-wellness enthusiasts and is centered around the spiritual celebration of the 150th anniversary of Swami Vivekananda's birth. The 19th-century Hindu monk is best known as the driving force behind today's enthusiastic reception of yoga, transcendental meditation and other forms of Indian spiritual self-improvement in the West.
The Laughing Diva will join other noted fitness personalities, entertainers, scholars and yoga masters at the Dharma & Yoga Fest. It promises to be a full day of healthy fun, education, entertainment, delicious foods and (yes!) laughter wellness workouts for the entire family.
Laughter Yoga, first introduced in 1995 by Dr. Madan Kataria, an Indian medical doctor and student of yoga, is a revolutionary approach to stress and health management that combines simple laughter exercises with gentle yoga breathing techniques. It's a holistic way to deal with stress, grief, anxieties and fears.
"When laughter is shared, it increases happiness, trust and triggers healthy physical changes in the body which strengthens your immune system, actually boosting energy, diminishing pain and protecting you from the damaging effects of stress," commented Bongar, the Laughing Diva and founder of B.OUTRAGEOUS Entertainment.
The Laughing Diva's magnetic, positive style and endless energy have inspired and provided real health benefits to thousands of people worldwide. She performs in workshops for national corporations, hospitals, older adults, college students and children. Her enthusiasm and compassion have brought relief to those suffering from chronic pain and grave illnesses. They learn to use laughter to manage pain, boost energy, increase focus and improve their overall ability to deal with stresses and challenges.
About Beth Bongar (aka the Laughing Diva)
Bongar is a certified Laughter Yoga Teacher and has been healing people with the power of laughter and joy all her life. At 19, she ran away and joined the circus and became a professional Ringling Bros. clown. She also studied mime with Marcel Marceau and attended the California Institute of the Arts.
Bongar leads many original workshops for corporate wellness programs and the general public. Some of her public workshop topics are "Soul Sparkle" (for grief and pain), "Laughing Matters" (for stress and fear), "Ha-ttention!" (for ADHD), "Stretch and Laugh" (for older adults and people with disabilities) and Yumm Meditation™ (for joy and pleasure for all).
Bongar has conducted Laughter Yoga and other workshops for organizations such as Tudor Investment Corporation, IBM, Rutgers University, St. Mary's Children Hospital and the Big Cat Habitat.