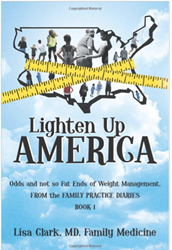 I've taken advice and practices I've learned from 15 years in family medicine and presented it in an entertaining and humorous fashion
Destin, FL (PRWEB) September 10, 2013
Roughly one-third of American adults are categorized as obese. If the U.S. continues at its current rate, the Robert Wood Johnson Foundation predicts that half of all Americans will be obese by the year 2030.
Family physician Lisa Clark is determined to put a stop to this trend with Lighten Up America, a new guide to maintaining a healthy body weight and lifestyle.
The book covers natural weight gains and losses, effects of exercise and our body composition during different life stages. It also discusses the evolution of society and the changes required to keep Americans healthy.
"Weight management is a process that requires both education and motivation," said Clark. "There's no magical secret: just hard work, knowledge and willpower."
Lighten Up America began as a handbook of weight management tips that Clark distributed to her patients. It was so positively received that it she decided to edit and publish it. While the book is about weight control and healthy living, Clark stresses that it is not a "diet book".
"I've taken advice and practices I've learned from 15 years in family medicine and presented it in an entertaining and humorous fashion," said Clark." "It's important educate the public not only on how to lose weight, but also how to keep it off."
Lighten Up America: Odds and Not so Fat Ends of Weight Management
By Dr. Lisa Clark
ISBN: 978-1462057177
Retail price: $12.95
Available at: Amazon.com
About the Author
Dr. Lisa Clark was born in Toronto Canada and received a master's degree from Southeastern Louisiana University and a medical degree from Louisiana State University in New Orleans. She and her husband Michael have a son and a daughter and live in Florida, where she currently practices family medicine. This is her first book. For more information on Lisa Clark MD or Lighten Up America please visit https://www.facebook.com/pages/Clark-Family-Medicine/115633195117164.