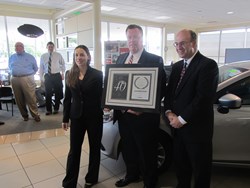 Concord, NH (PRWEB) September 06, 2013
Grappone Mazda is one of the oldest Mazda dealerships in the country. They celebrated their 40th anniversary on Thursday, September 5. Mazda Regional General Manager, Peter Donnelly, traveled to Grappone to present 4th generation owner, Amanda, and CEO, Larry Haynes, with a plaque honoring the occasion.
Mazda was founded in Hiroshima, Japan in 1920 under the name Toyo Cork Kogyo Co., Ltd. The company started off by producing machine tools. The first vehicle produced was in 1931, it was a three-wheel truck that was used in China.
In 1970 Mazda began exporting vehicles to the United States and the first Mazda dealership was established. The Grappone family immediately saw the potential in Mazda and acquired the franchise rights for a Mazda dealership in 1973.
The 40th anniversary celebration was held in the Grappone Mazda showroom. The Grappone team celebrated their accomplishment with a catered lunch for the staff. During the lunch Mazda technician Gordan Marceau was recognized for being with Grappone Mazda for 33 years.
Fortunately, the newly redesigned 2014 Mazda 3 had just arrived at the dealership and was featured in the showroom. SKYACTIV technology is an umbrella name for a range of technologies used in most new Mazda vehicles including the Mazda2, Mazda3, Mazda6 and CX-5. Together these technologies increase fuel economy to a level similar to a hybrid drive-train. Engine output is increased and emission levels are reduced.
Founded in 1924, Grappone Automotive Group is family owned and operated and is in its fourth generation of ownership. Grappone is driven to amaze you. They are a company that focuses on helping the community, their guests and charities. For more information please visit http://www.grapponemazda.com/index.htm