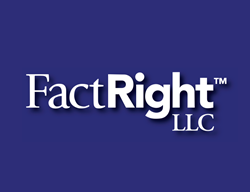 "Brian Ranwick brings an impressive depth of knowledge and analytical ability to the FactRight team."
Minneapolis, MN (PRWEB) September 10, 2013
FactRight LLC, a leading provider of risk management and third party due diligence services to the alternative investment industry, announced today that Brian Ranwick has joined the company as a Product Analyst.
Ranwick began working with FactRight and FactRight Risk Management as an independent consultant in November 2012. Ranwick performs in-depth legal, financial, and asset due diligence and analysis on all investment offering types, with a particular focus on hedge funds and oil & gas programs. His insights have proven valuable both as contributions to FactRight's comprehensive alternative investment product reports, and in other industry-related research and education projects.
"Brian been a critical member of our offering analysis team since he started working with us last year," said Scott Smith, President and CEO. "He brings an impressive depth of knowledge and analytical ability to the FactRight team."
Prior to joining FactRight, Ranwick served as an attorney for the Consumer Justice Center where he advocated for clients in consumer protection cases. Ranwick earned his juris doctorate with a formal concentration in business law from the University of Minnesota Law School where he was a Bright Scholarship and Endowment for Excellence Scholarship recipient. He also earned a bachelor's degree in economics from Macalester College.
About Fact Right LLC
Founded in 2006, FactRight is an innovative service organization providing out-sourced risk management and analytical due diligence to the alternative investment community. The Factright team features highly credentialed professionals who each specialize in different disciplines. Our staff includes licensed attorneys, certified public accounts, certified fraud examiners, internal auditors, charter financial analysts, and former due diligence officers of financial services firms. Our multidisciplinary approach enables us to fill in risk management and due diligence voids faced by many of our clients. And, by having a partner that proactively keeps pace with an ever-changing industry, independent broker-dealers can be confident that they have the guidance they need to meet regulatory challenges.
Additional information, including details on our premium FR Risk Management services, can be found by visiting http://www.factright.com.