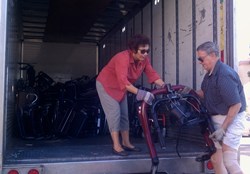 Loma Linda, CA (PRWEB) September 06, 2013
Loma Linda University Health PossAbilities will host its annual wheelchair drive on Sept. 20 to collect wheelchairs and walkers for Joni and Friends Wheels for the World.
Wheels for the World provides free wheelchairs, along with a copy of the Bible, to children and adults affected by disability worldwide.
New or used non-electric wheelchairs, canes, and walkers may be dropped off between 9 a.m. and noon on Sept. 20 at the PossAbilities office, located in the Professional Plaza, 25455 Barton Rd., Suite 109A, Loma Linda, Calif. 92354.
Electric wheelchairs cannot be accepted due to the cost of transportation. Wheels for the World will provide a tax donation receipt.
PossAbilities is a community outreach program developed by Loma Linda University Center East Campus and supported by founding partner, the San Manuel Band of Mission Indians. PossAbilities' goal is to offer physically challenged people born with or having suffered from permanent physical injury a sense of community by offering activities and practical help.
For more information about the annual wheelchair drive or for special pick-up, call Jeannette Burkhart at 909-792-2308. To learn more about Wheels for the World, visit http://www.joniandfriends.org.
Photo Caption: Jeannette and Dick Burkhart, chair corps representatives for Joni and Friends Wheels for the World, prepare to transport wheelchairs and walkers collected during last year's Loma Linda University PossAbilities annual wheelchair drive.
###
About Loma Linda University Health (LLUH)
Loma Linda University Health includes Loma Linda University's eight professional schools, Loma Linda University Medical Center's six hospitals and more than 900 faculty physicians located in the Inland Empire of Southern California. Established in 1905, LLUH is a global leader in education, research and clinical care. It offers over 100 academic programs and provides quality health care to 40,000 inpatients and 1.5 million outpatients each year. A Seventh-day Adventist organization, LLUH is a faith-based health system with a mission "to continue the teaching and healing ministry of Jesus Christ."