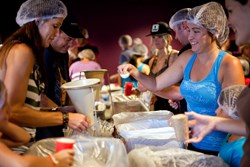 (PRWEB) September 06, 2013
WHO: Local commuity and business leaders including Cisco Systems, Inc., the Salesforce.com Foundation and Genentech Inc. dedicated to ending hunger gather to celebrate the Grand Opening of Stop Hunger Now's newest meal packaging location and the first in Northern California.
WHAT: Stop Hunger Now Grand Opening of Northern California warehouse. The event marks the accomplishments of supporters, funders and meal packaging volunteers that helped establish Stop Hunger Now in Northern California and will include meal packaging demonstrations and a ribbon-cutting ceremony.
WHEN: 12:00 p.m.; Thursday, Sept. 12, 2013
WHERE: Stop Hunger Now, 1567 Alvarado Street, San Leandro, CA
WHY: Around the world, more than 868 million people lack adequate food and more than 25,000 die each day from hunger-related illnesses. In just over a year, Stop Hunger Now Northern California has packaged more than one million meals for the hungry and engaged more than 3,000 volunteers. Stop Hunger Now operates meal packaging locations in 17 cities throughout the U.S. and international locations in South Africa and Malaysia, and has packaged more than 108, 000,000 meals since its founding in 1998.
MEET THE LEADERS; CAPTURE FOOTAGE: Media is invited to attend the Grand Opening. Visuals and interview opportunities include:

Ray Buchanan, Stop Hunger Now Founder and International President
Rod Brooks, Stop Hunger Now CEO and President
Jessica Graham, Cisco Systems, Inc.
Jim Prola, Vice Mayor, San Leandro
Chris Zapata, City Manager, San Leandro
Rita Williams, veteran television reporter
Meal Packaging demonstrations; to see demo event, visit http://www.youtube.com/watch?v=lCp4zQ2eRZE
About Stop Hunger Now
In 2013 Stop Hunger Now is celebrating its 15th anniversary in its ongoing work to create a movement to end hunger. More than 100,000,000 meals have been packaged and distributed with other life-saving aid to 65 countries impacting millions of lives.
The organization is driven by a vision of a world without hunger and a mission to end hunger in our lifetime by providing food and life-saving aid to the world's most vulnerable and by creating a global commitment to mobilize the necessary resources.
In its efforts to respond to emergency needs around the world Stop Hunger Now receives and distributes significant donations of in-kind aid. These donations are large quantities of food, medicines, medical supplies and other such items as may be of use in fighting hunger and providing relief in a crisis.